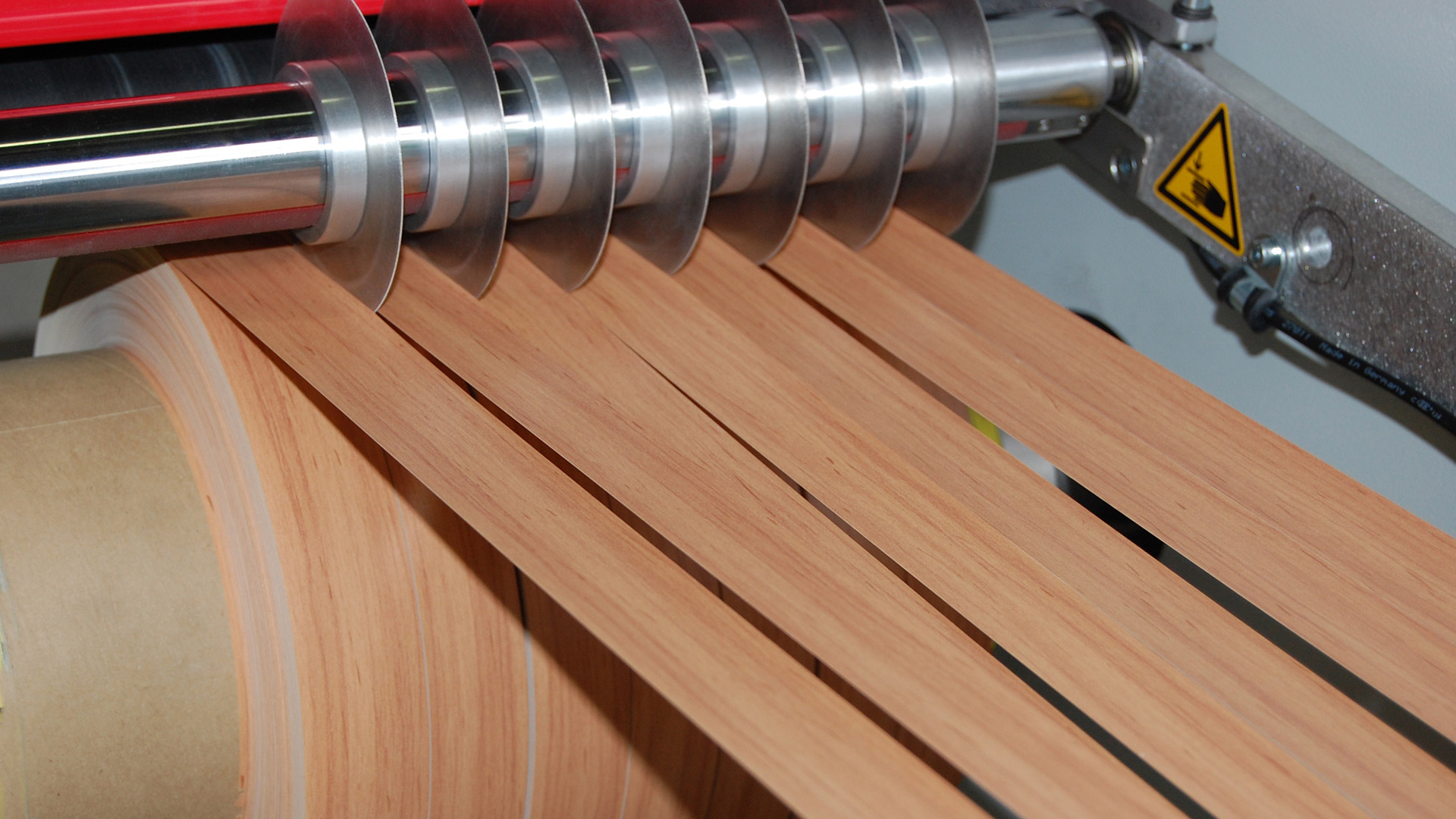 Solutions for all common surface materials such as paper, PVC, PP and veneer
Reel slitting machines and edge cutting machines for surface material on reels
With steady unwinding and rewinding plus a precise cut of the surface material, you create ideal conditions for high quality wrapped or foiled profiles. When choosing a slitting machine, both working safety and easy handling are important factors which increase significantly with the degree of automation that the machine offers.



Duespohl offers solutions for all common surface materials, featuring different degrees of automation ranging from basic equipment with steady tension to maximum automation including automatic positioning of knives.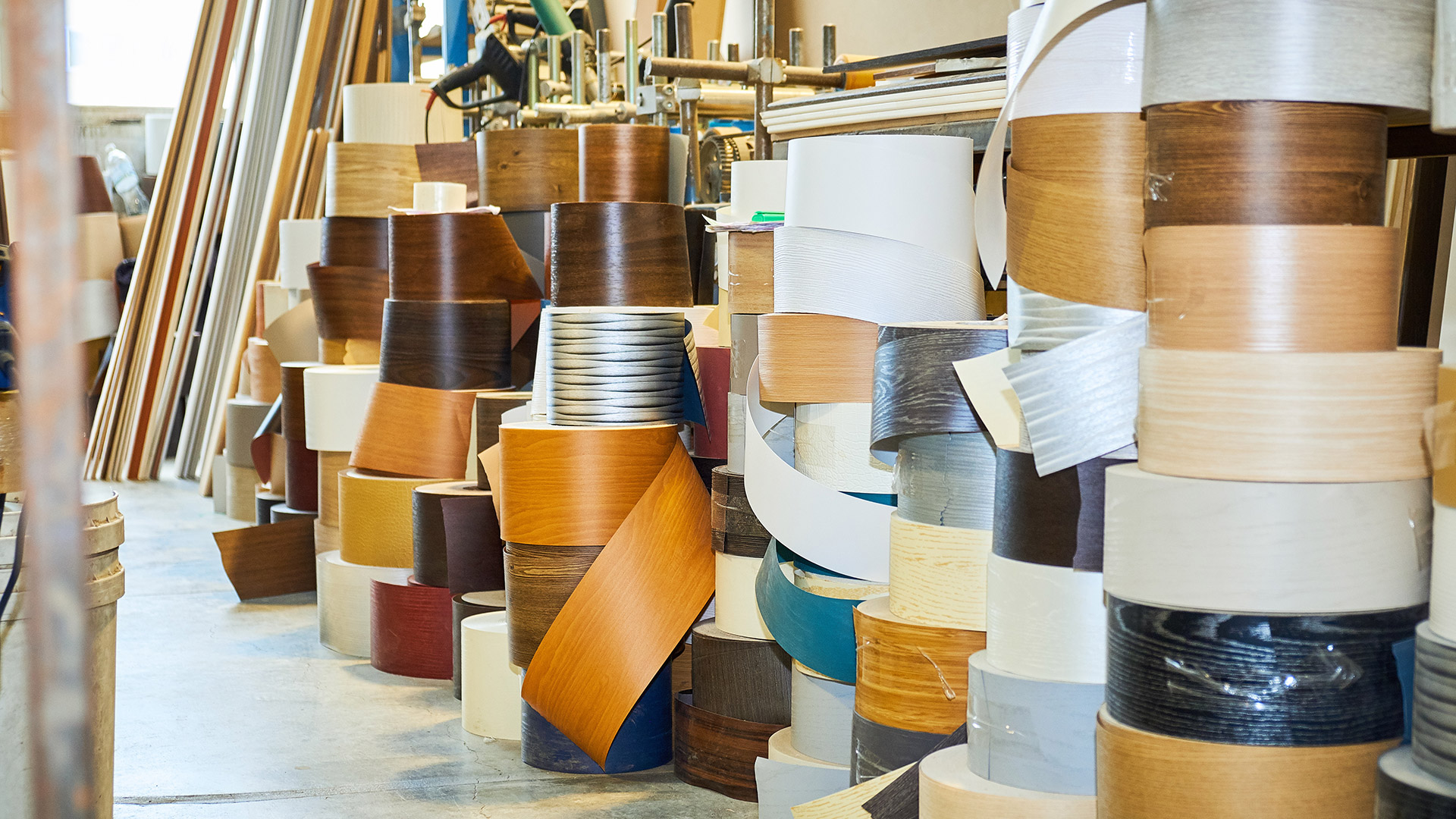 Applications of slitting machines
Slitting machines are mainly used by producers of surface material or profile wrapping and laminating companies that need foil, paper or other decorative materials to cover the surface of substrates. Both need them to cut the so-called "mother reels" which have full widths of up to 1600 or 2200 mm to the widths required for the individual profile wrapping jobs.
Slitting machines are used by producers of foil to prepare the reels for their customers and deliver them in the final width which the customer needs. Profile wrapping companies keep their own slitting machines to cut the full width reels into smaller reels by themselves.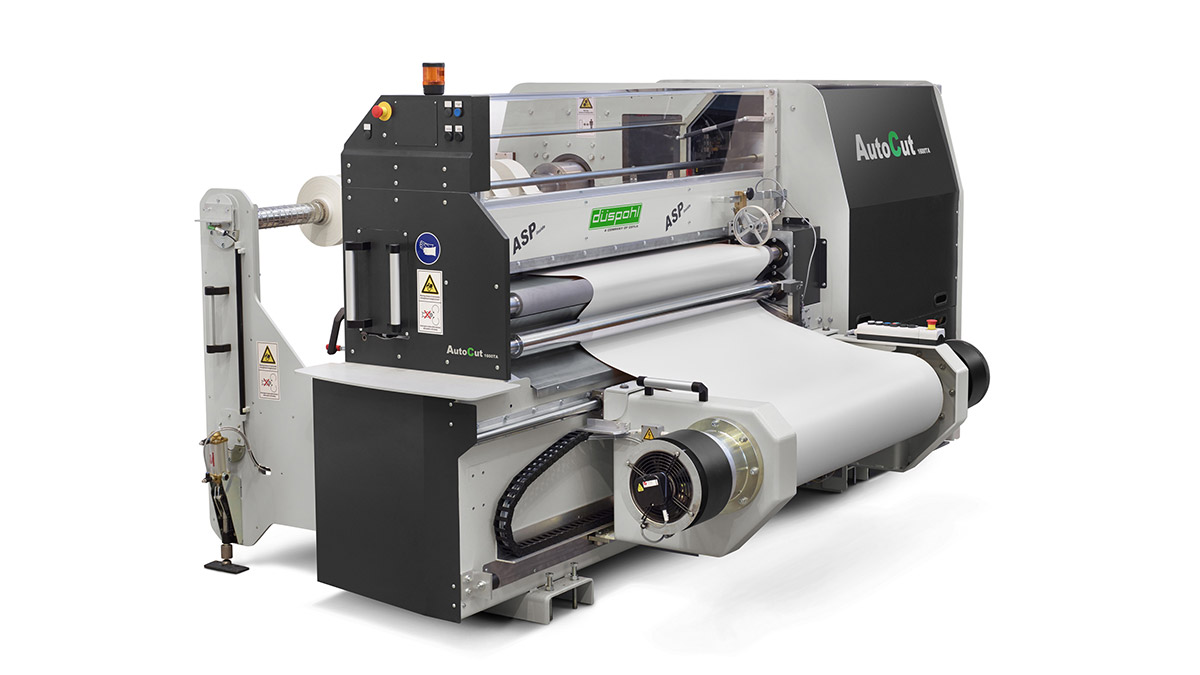 Advantages of using slitting machines
Profile wrapping companies working with their own slitting machine benefit from higher flexibility and independence from the supplier: They can simply order mother reels in full width and cut them into the required widths whenever they need to.
To maximize the advantages of using a slitting machine, we recommend making sure it is easy to operate and makes a high quality cut. Every operator should be able to handle it the same way, obtaining the same settings and - thus - results.
Also, the cut should be precise and the rewinding parallel and steady to ensure that the foil will perfectly cover the area that is to be wrapped.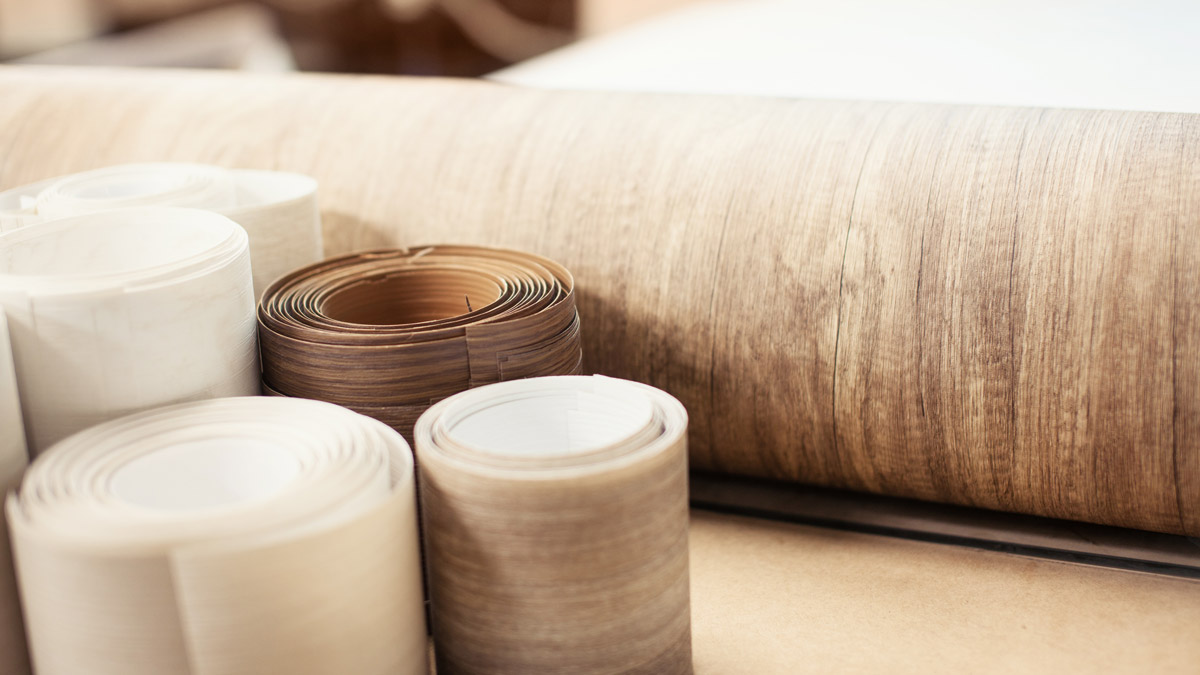 Slitting machines: setting the conditions for optimal wrapping results
When it comes to rewinding, we consider both the demand for a tight rewinding, as well as the demands of more sensitive foils such as those with an acrylic layer.

Additionally, we produce edge cutting machines with automatic knife positioning as well as an edge cutting and rewinding machine for the separation of mother reels into newly rewound reels with shorter lengths.

A saw divides the reel including cardboard core. This process is not suitable for thermoplastic foils and means a loss of material depending on the thickness of the blade. Especially for paper and CPL.

On a reel slitting and rewinding machine, the surface material will be unwound, cut by knives and rewound. This silent process is also suitable for thermoplastic surface material and minimises the loss of material.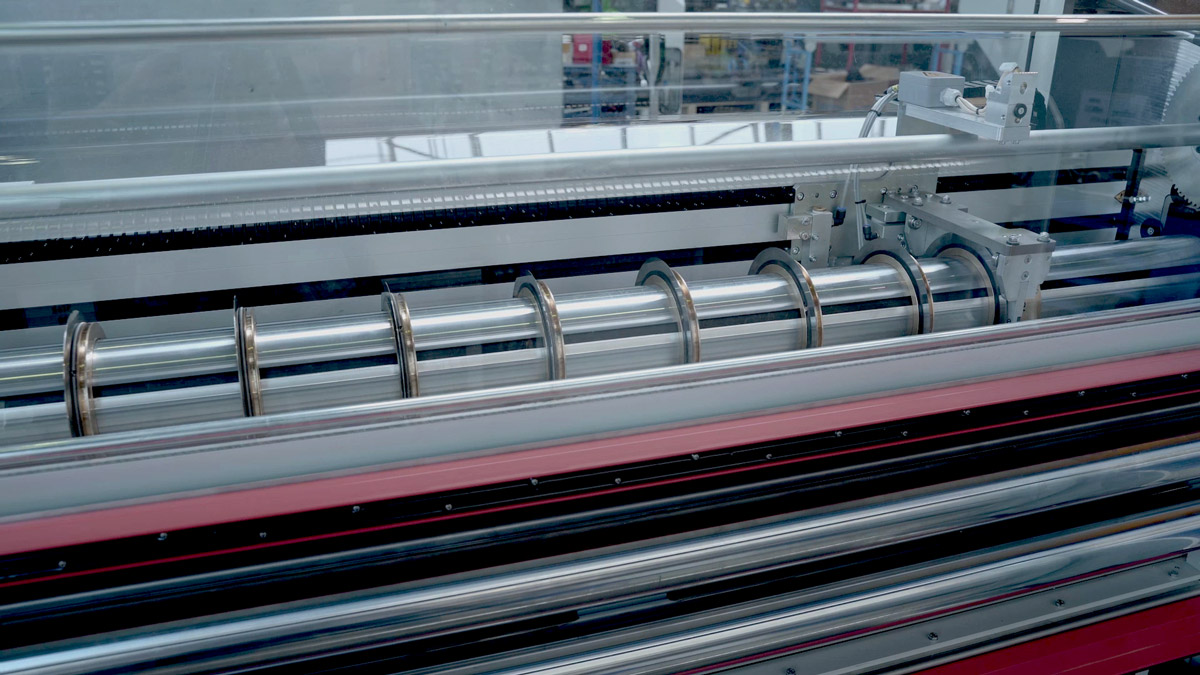 Reel slitting machines:
automated solutions

All slitting and rewinding machines by Duespohl unwind and rewind with constant tension, independently of the diameter. The steady winding is a necessary condition for a trouble-free wrapping process and prevents cracks in double layer materials.

Both AutoCut and EdgeCut feature automatic knife positioning. This increases working safety and makes precise settings as well as reproducible results possible, independently of the individual operator's skills. Of course this solution also contains recipe management and the possibility to connect the control system to your company's network.
Discover the slitting and
edge cutting machines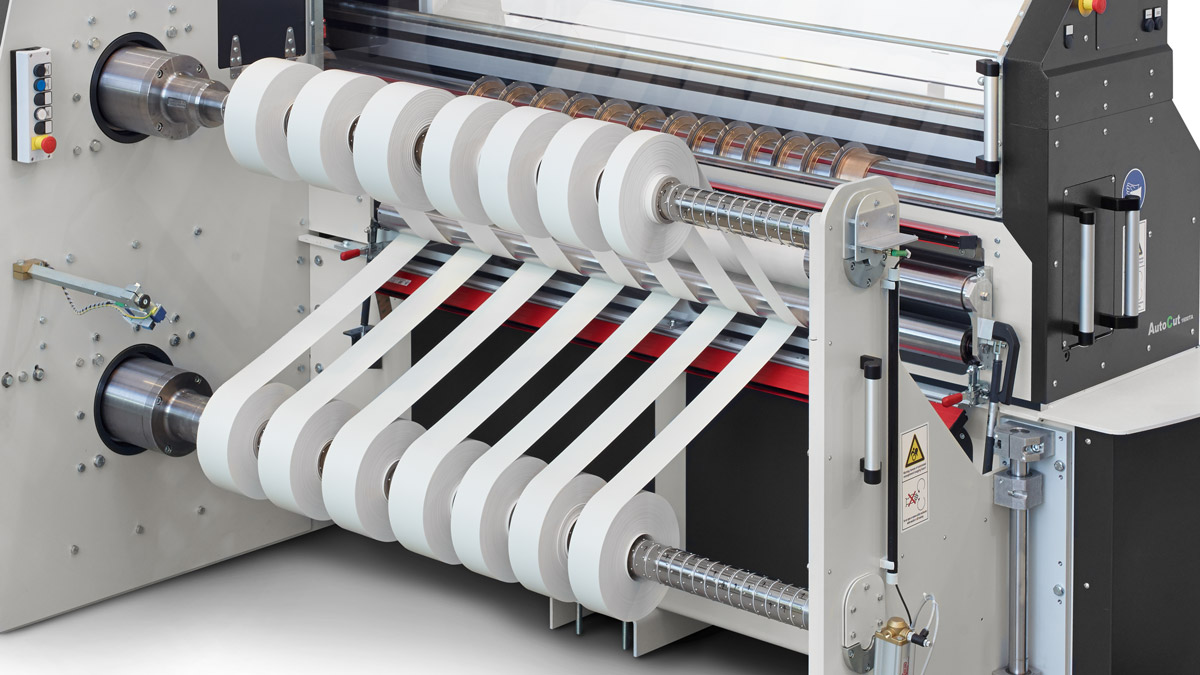 Highly precise friction system: tight rewinding of different widths

Duespohl equips slitting and rewinding machines optionally with friction winding shafts. These enable tight rewinding of the separated reels over the entire width. Often, the mother reel itself suffers from differences in the material thickness. Without friction winding shafts, unwinding could be undermined by differences in tension.
Do you have a project to discuss with us?
We'll help you find the best slitting solution for your application.