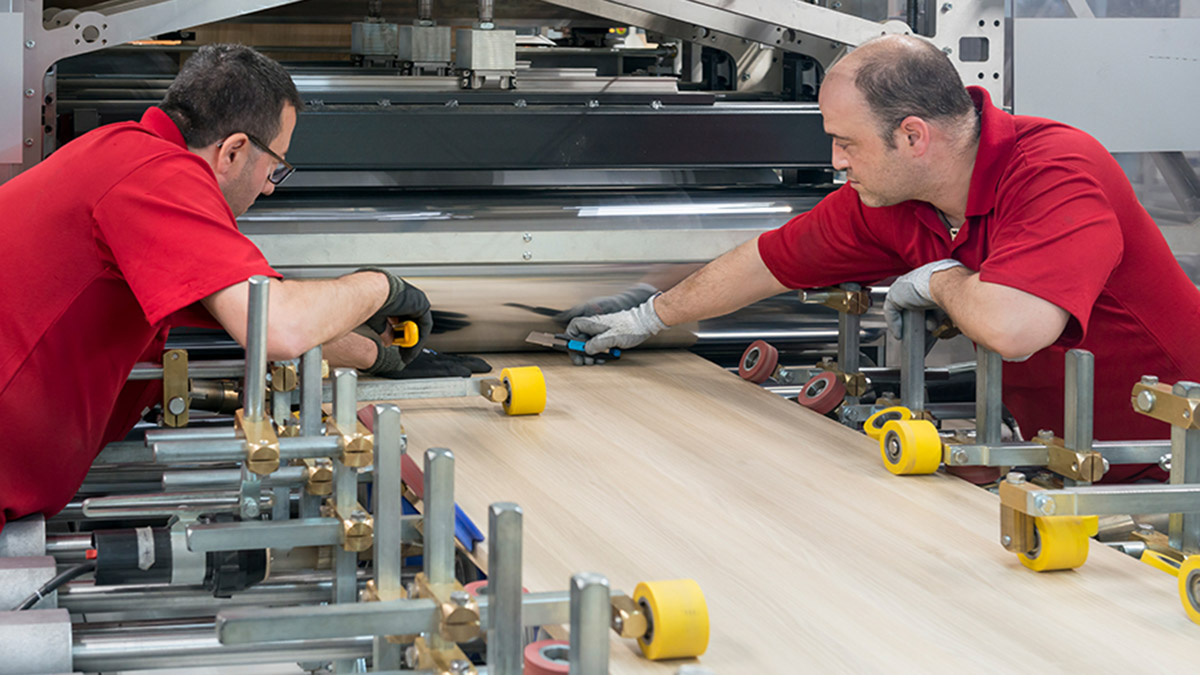 Profile wrapping vs. laminating
While profile wrapping machines finish the surfaces of wood or PVC profiles with simple to complex geometries, a laminating machine presses decorative material to flat work pieces (boards, flat wide skirtings, ....).

A good laminating line is connected to previous as well as subsequent handling systems and features a flexible laminating zone that works with different kinds of substrates. To make sure you produce high quality results, the surface material has to be pressed across the entire area without any voids or wrinkles. The adhesion has to be strong and longlasting to make sure the final customers will enjoy the products for a long time.
Would you like to find out more about our profile wrapping solutions?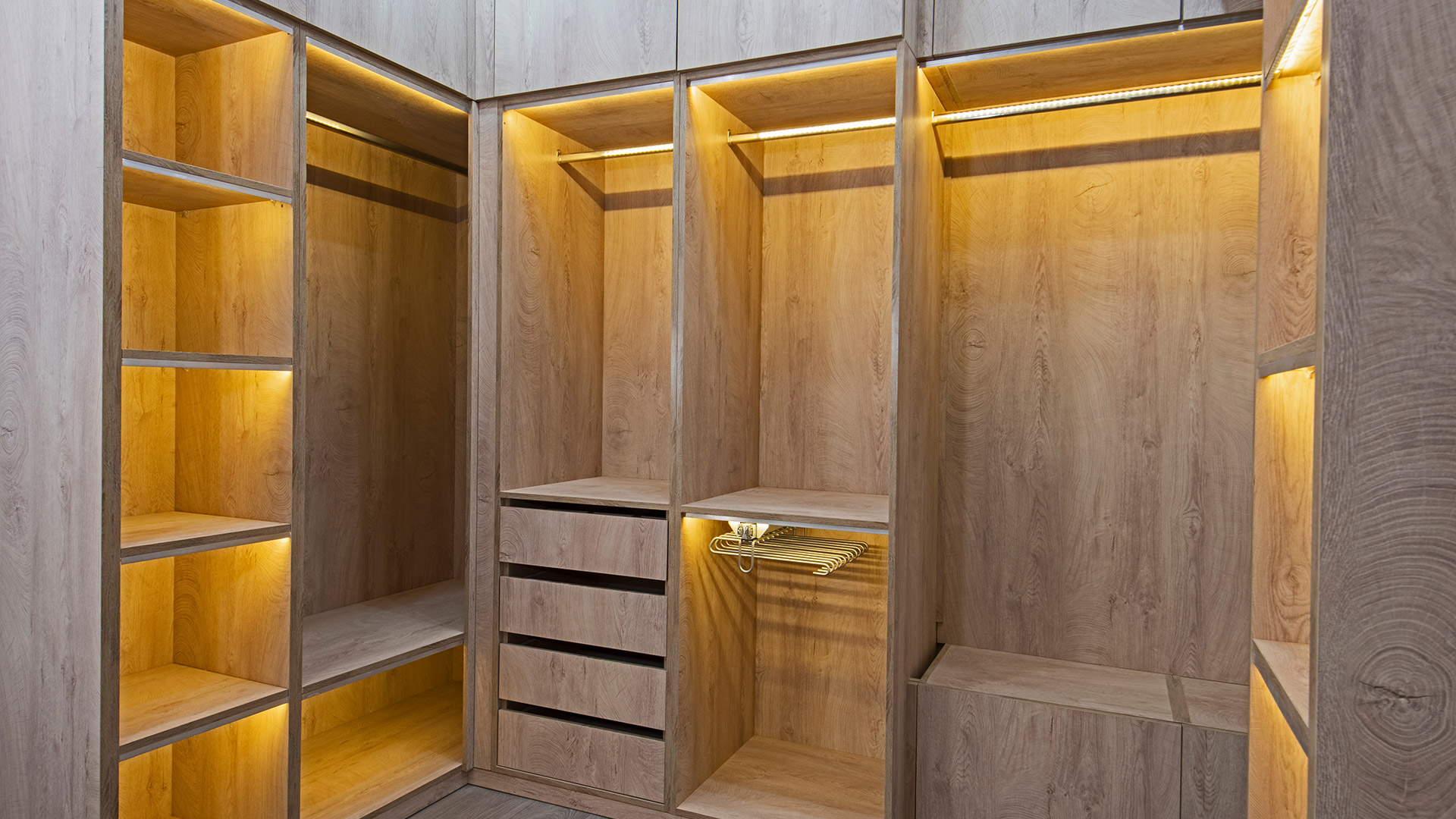 Applications of laminating lines
Laminating lines play a crucial role in typical interior applications such as kitchen doors, cabinet doors, furniture bodies, and back boards.
As for exterior applications, panels for outdoor fronts and doors can also be laminated. In this case, an outdoor proof adhesive (PUR) is an essential component of the process. Duespohl has developed reliable, energy efficient solutions to melt all sorts of hot melt glues.
Panels from wood (composites), PVC and metal can be laminated.
Would you like to watch a video of our latest laminating line?
PowerWrap Wide 1400DS laminates top and bottom simultaneously and creates 2 seamless joints.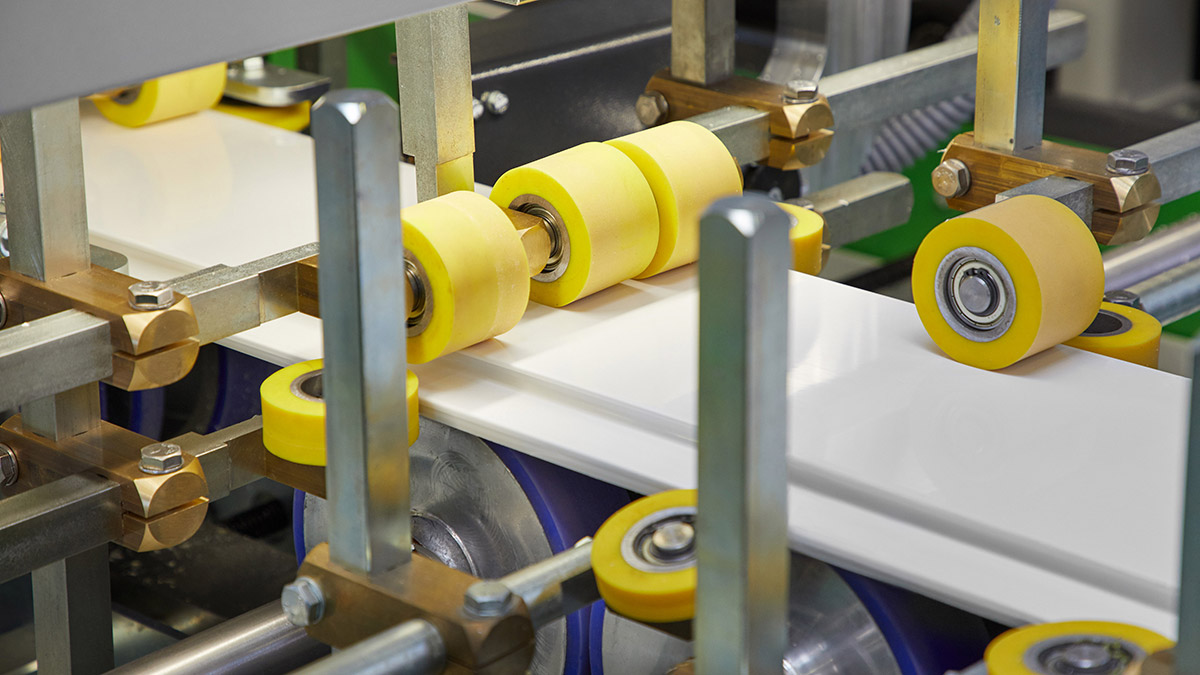 Advantages of lamination lines made by Duespohl
One of the major advantages of a lamination line is that we manufacture the entire machine, from the premelter and the glue application system up to the separation unit, in our production site in Germany. Being great experts in profile wrapping, we also offer combined profile wrapping-lamination-lines that enable you to finish the flat surface as well as straight or profiled edges (like J-Pull handles) on one line, in one single pass.



References
The laminating line by Duespohl has supported us in growing constantly and offering our customers a larger variety of surface qualities.
Oscar Taboas - Royo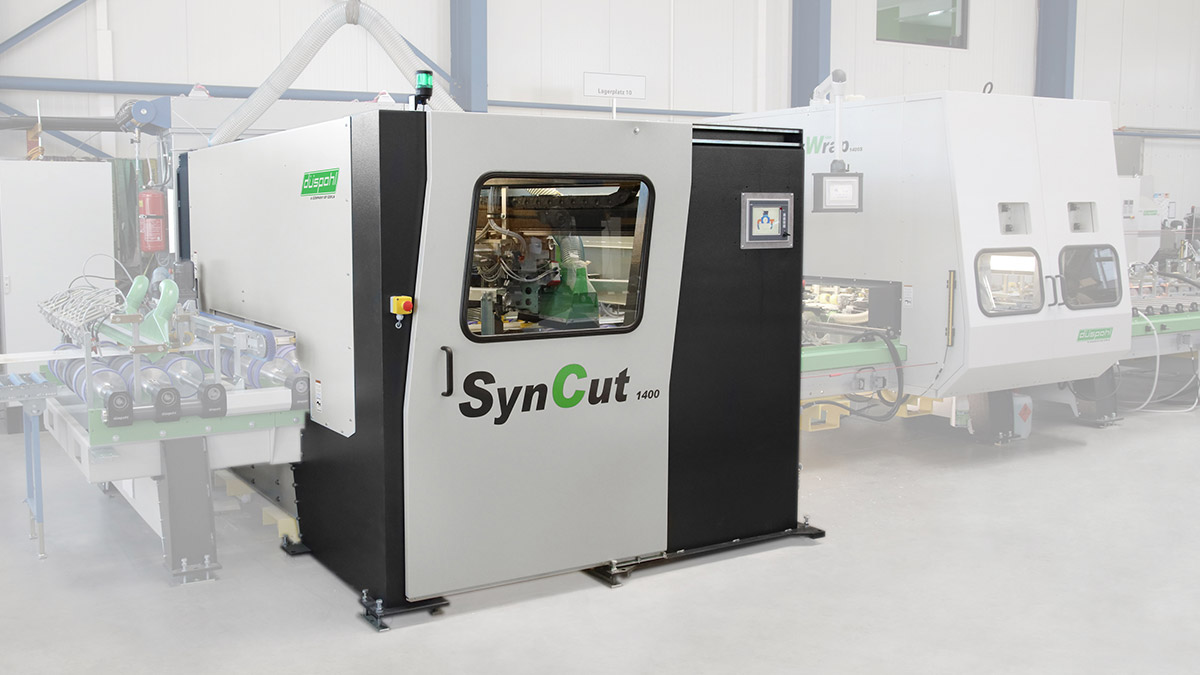 High quality components
The internationally renowned and patented Duespohl SlotCoater applies the hot melt glue. It assures a constant and homogeneous glue application for a strong and long-lasting adhesion as well as low maintenance efforts and high technical availability. The laminating zone is extremely flexible and handles all kinds of substrates from honeycomb doors to solid HDF boards. The diagonal saw from the SynCut series separates finished boards precisely and without any clamping of the laminated boards.
Have a look at the Case Study on 2D lamination of bathroom furniture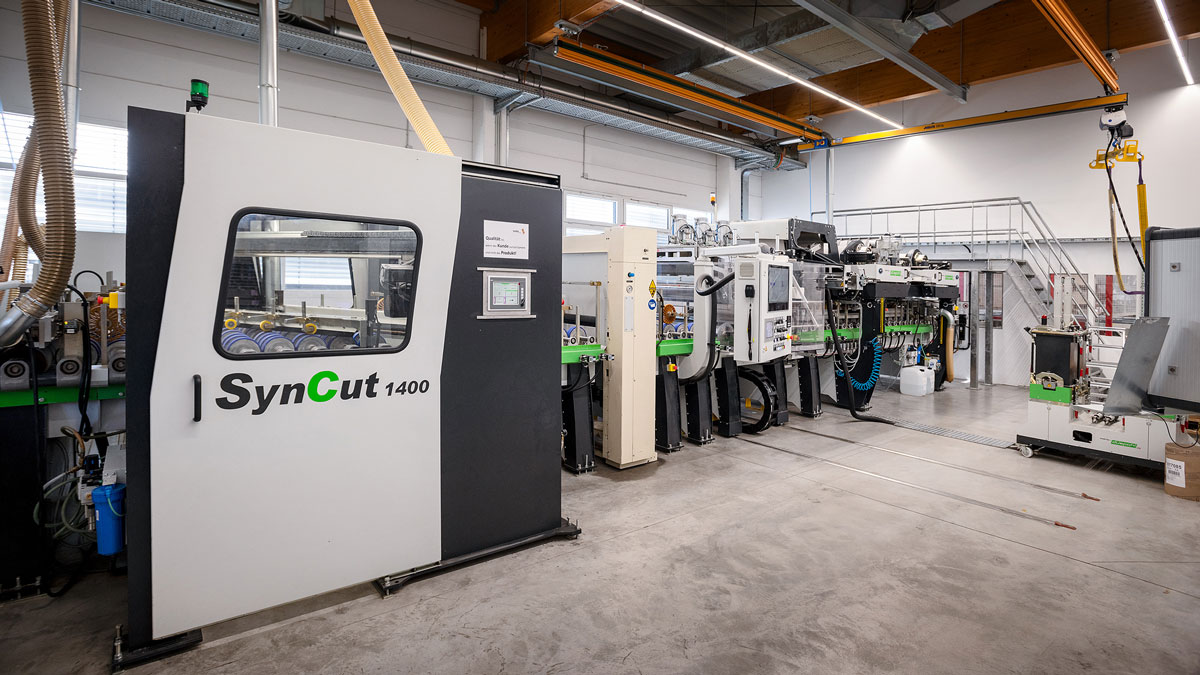 Reducing production costs with laminating lines
Duespohl's laminating lines have been designed to help you manage your energy costs: These laminating lines feature innovative components that generate electricity, which the machine then repurposes for other energy-demanding functions. Especially in times of increasing energy costs, the reduced ongoing expenses are a major advantage.
Additionally, the eco-friendly aspect of using hot melt glue, which is formaldehyde-free, contributes to the benefits of laminating lines. Thanks to its composition and application by slot nozzle, it does not require daily cleaning - which is also cost-reducing.
Speaking of which: heating the rollers with electricity instead of oil is cleaner, more energy efficient and process safe.
Wrapped and laminated final products
Profiles such as skirting boards or window frames have been wrapped, wall coverings and kitchen doors are made from wider panels that have been laminated.
Discover our laminating lines for PVC or wood
(composites)
We produce the entire line in-house, including premelter, glue application system and diagonal saw

Combined laminating-wrapping-line to laminate both boards and their edges, e.g. kitchen doors with J-Pull handles

Flexible laminating zone for different types of substrates

Laminating of both sides in one single pass possible
Glue application by extremely durable internationally famous Duespohl SlotCoater

Staff free to focus on other tasks because of many automated solutions

Optional: collection of production parameters and transmission to your company's network
Do you have a project to discuss with us?
We'll help you find the best profile wrapping solution for your industry.