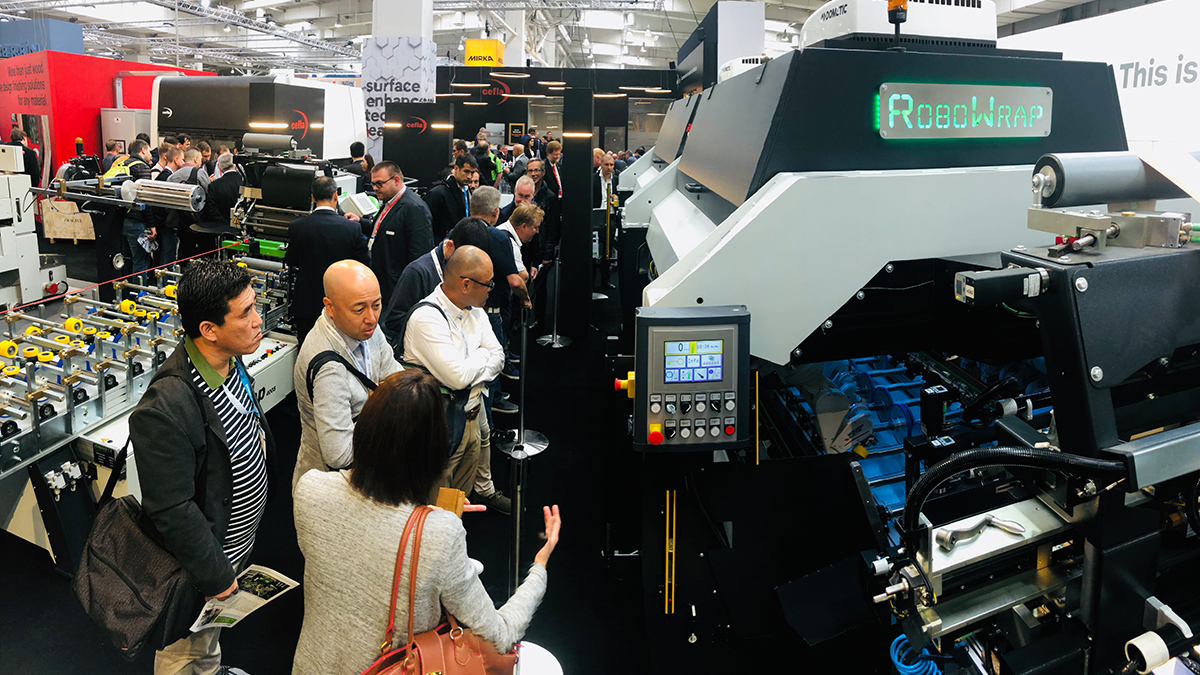 Ligna 2023: Duespohl at the greatest international woodworking fair
It's been quite a while and Duespohl is most happy to finally meet you again in person at Ligna 2023 Hannover, the leading international woodworking fair.
From May 15th to 19th, the leading woodworking companies will present their latest solutions in Hannover. Duespohl will contribute by showcasing the latest solutions for profile wrapping machines and slitting machines.
Ligna 2023 Hannover. What Can You Expect
The international woodworking fair is all about wood. From energy generation based on wood, machinery for forestry, automation technology, sawmill technology, tools for mass production to surface technologies - which is where Duespohl comes in.
Co-exhibiting with Cefla Finishing, Duespohl will showcase both a profile wrapping machine and a slitting machine in a LAB environment, featuring live demonstrations of wrapping door profiles.
Also, Duespohl's profile wrapping experts will be happy to discuss the latest solutions for reducing set-up times, ensuring high quality and simplifying the operation with you.
MultiWrap Wood: profile wrapping machine with brand new solutions
As a profile wrapping machine, Duespohl will present a MultiWrap at Ligna 2023. As you might know, these lines combine a high quality basic equipment with smart optional solutions for all applications.
At Ligna 2023, Duespohl will present a configuration equipped for the wrapping of door profiles with CPL surface materials. Special tools make it possible to wrap radiuses.
Speaking of set-up times, Duespohl is going to present two new solutions to speed up the preparation of the wrapping zone in a profile wrapping machine. Automation is another important topic at Ligna 2023.
In addition to the profile wrapping solutions, Duespohl will also present the latest technologies for 2D lamination of panels. Combining the equipment of a laminating line with those of a profile wrapping line, U- and L- shaped panels can be wrapped in one pass with a continuous surface.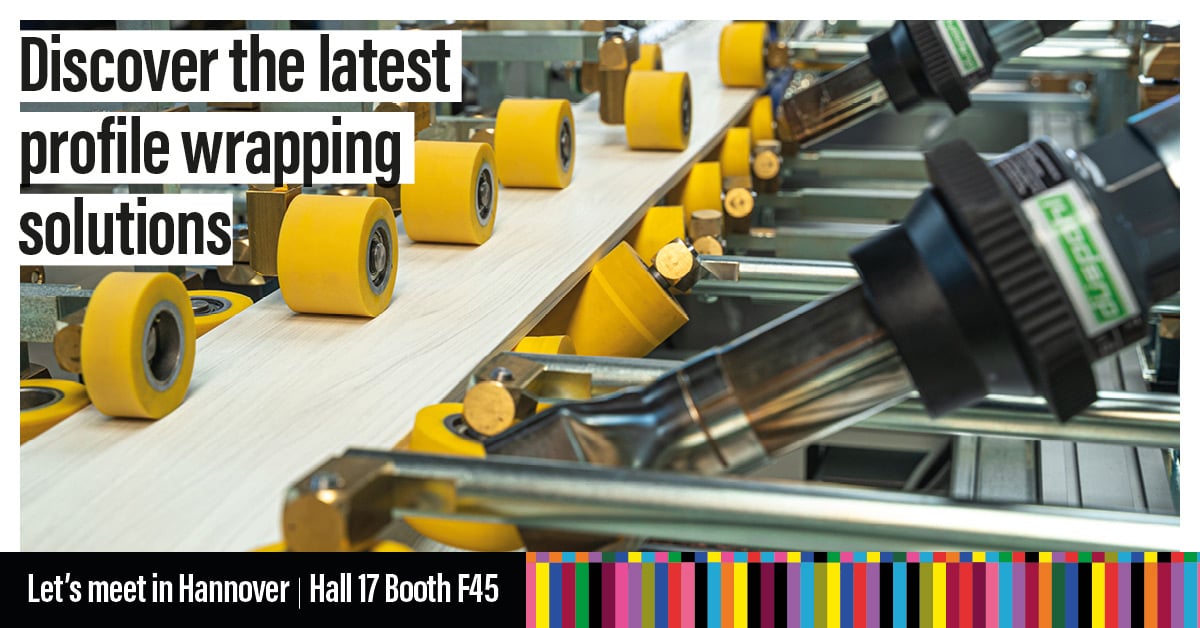 Slitting machine: the innovation of AutoCut
Since profile wrapping works best with correctly cut surface material, at Ligna 2023 in Hannover, you will also see the fully automatic slitting machine - Duespohl's AutoCut.
With automatic knife positioning it stands for maximum working safety while the automatic tension control ensures constant quality.
A brand new solution, presented for the first time at Ligna 2023, is the bar code printer. The code transfers information from the slitting machine to the profile wrapping machine where the operator can double check by means of a scanner if a reel corresponds to the respective profile wrapping job. The data collected simplifies the entire warehouse management.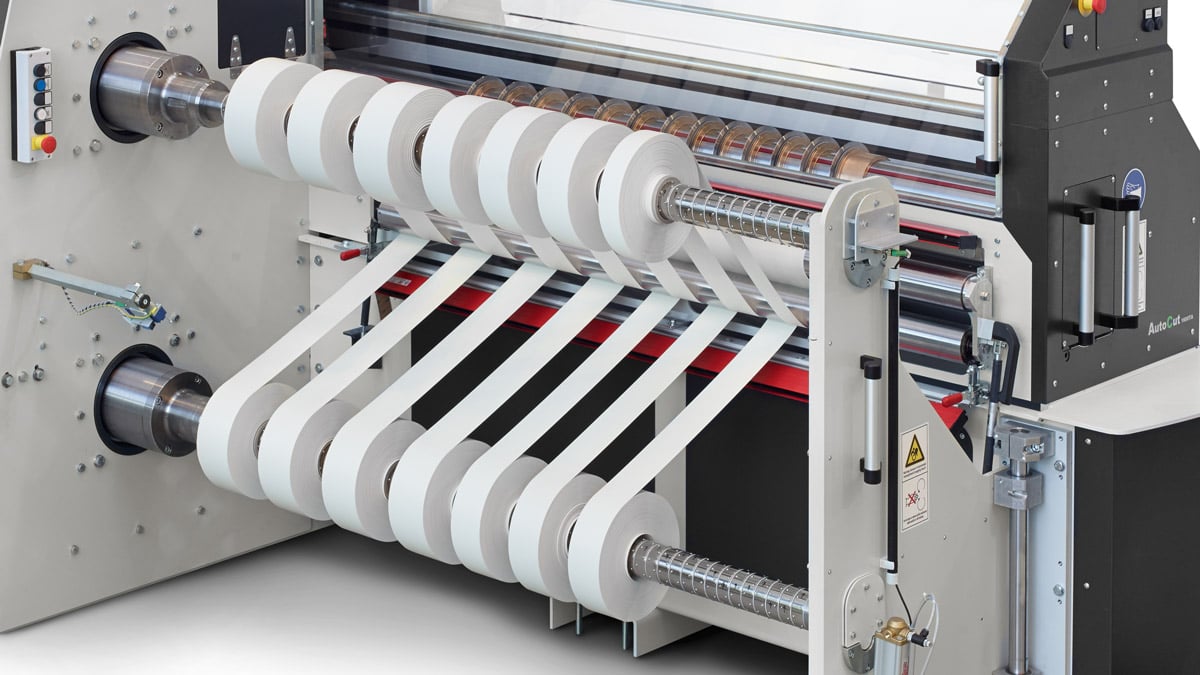 Visit us at Ligna 2023, the international woodworking fair of Hannover
Got curious? We are looking forward to meeting you in Hannover, at Ligna 2023, Hall 17, Booth F45 to show you live all of these & more. As a culinary completion to the technological expertise, you will enjoy authentic Italian catering.
Do not miss the chance to discover the latest solutions for profile wrapping machines, slitting machines and taste a real Espresso along with delicious pasticceria specialties.
To help you with the organization, we are happy to invite you and offer you your free ticket to Ligna 2023.