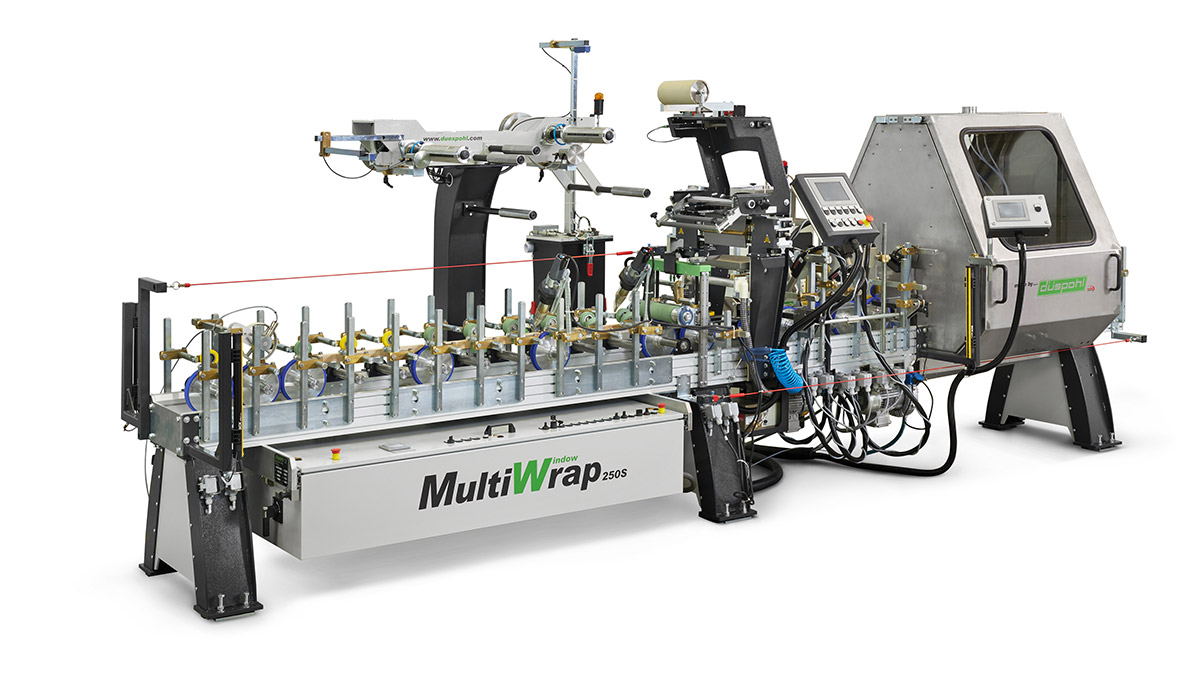 PVC wrapping machine: customized technologies for your projects
In this article, find out more about the applications of PVC wrapping machines, discover new solutions and learn more about what makes a profile wrapping machine for PVC profiles productive and reliable.
Applications of wrapping machines for PVC
A PVC profile wrapping machine wraps work pieces made from PVC with a decorative surface material, mostly made from PVC as well.
In the process, hot melt glue will be applied to the surface material which will then be wrapped around the profile, following its geometry.
The purpose is both functional and decorative. Wrapping PVC profiles, window frames are available in different colours. With a special foil, they are capable of reflecting UV rays.
As a complement to window frames, door frames are another common application of vinyl wrapping machines. Further applications would be shutters, transition profiles or spacers that are inserted between glass panes when working with multi glazing windows.
PVC profile wrapping machines by Duespohl
Compared to other processes, PVC profile wrapping is relatively simple, clean and productive.
Thanks to profile wrapping, window frames can be decorated with an authentic wood look. Brownish PVC bars made from recycled PVC can be transformed to white window frames when passing through a vinyl wrapping machine.
Thinking of the last summers, special UV ray reflecting foils become more and more interesting. They prevent heating in buildings to a significant degree.
Duespohl offers both inline and stand-alone PVC profile wrapping machines. The inline process works with limited speed but benefits from the temperature created in the extrusion process and requires little extra space.
Users of Duespohl's profile wrapping machines for PVC profiles benefit from the customized configuration of each machinery that fits their project perfectly as well as from the productivity and quality increasing impact of Duespohl's solutions.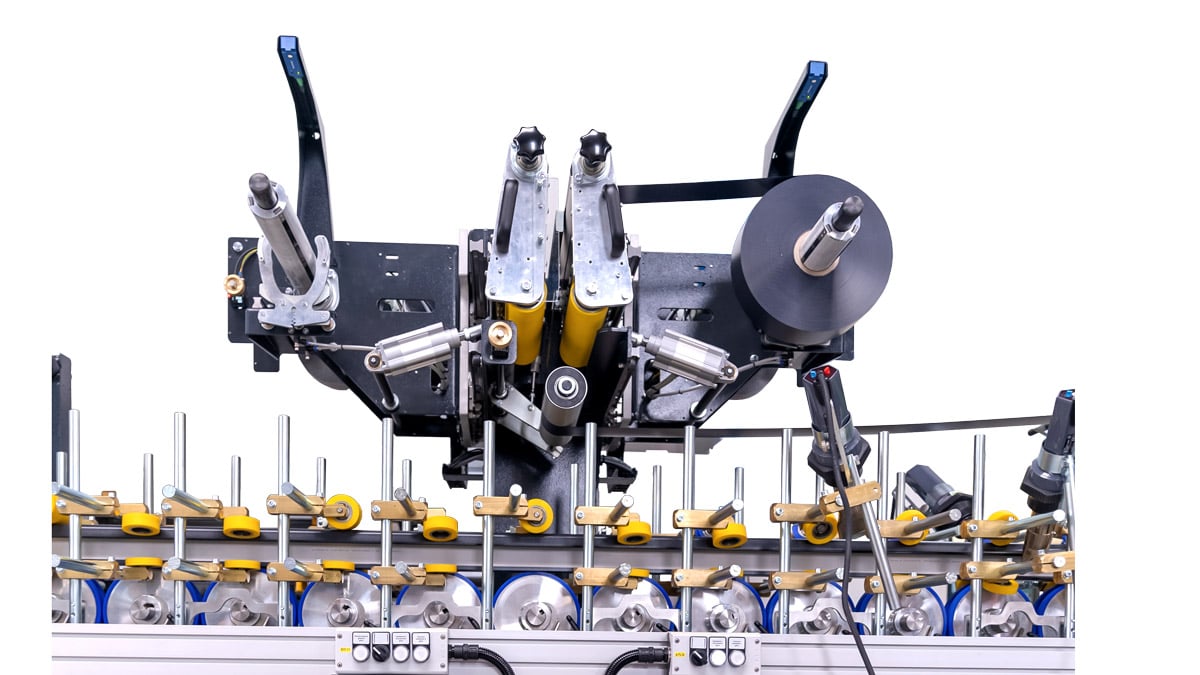 Let's have a look at Duespohl's vinyl wrapping machines: EasyWrap Window and MultiWrap Window.
EasyWrap Window: compact PVC profile wrapping machine
The EasyWrap's distinctive feature is the SCS unit which combines premelter, slot nozzle and dosing system. It is very modest in terms of space, since the premelter unit is installed upon the machine, while the electrical cabinet is placed below the wrapping zone.
MultiWrap Window: multi-talented wrapping machine for PVC
Duespohl's PVC profile wrapping machine MultiWrap Window comes with the energy-efficient premelter UniMelt.
UniMelt requires low efforts in terms of maintenance and can be refilled during production.
As for primer application, Duespohl has developed the unique primer vacuum application system PrimeStar whose set-up time between two profile geometries is only 20 seconds. Users benefit from absolutely uniform application and lower primer consumption.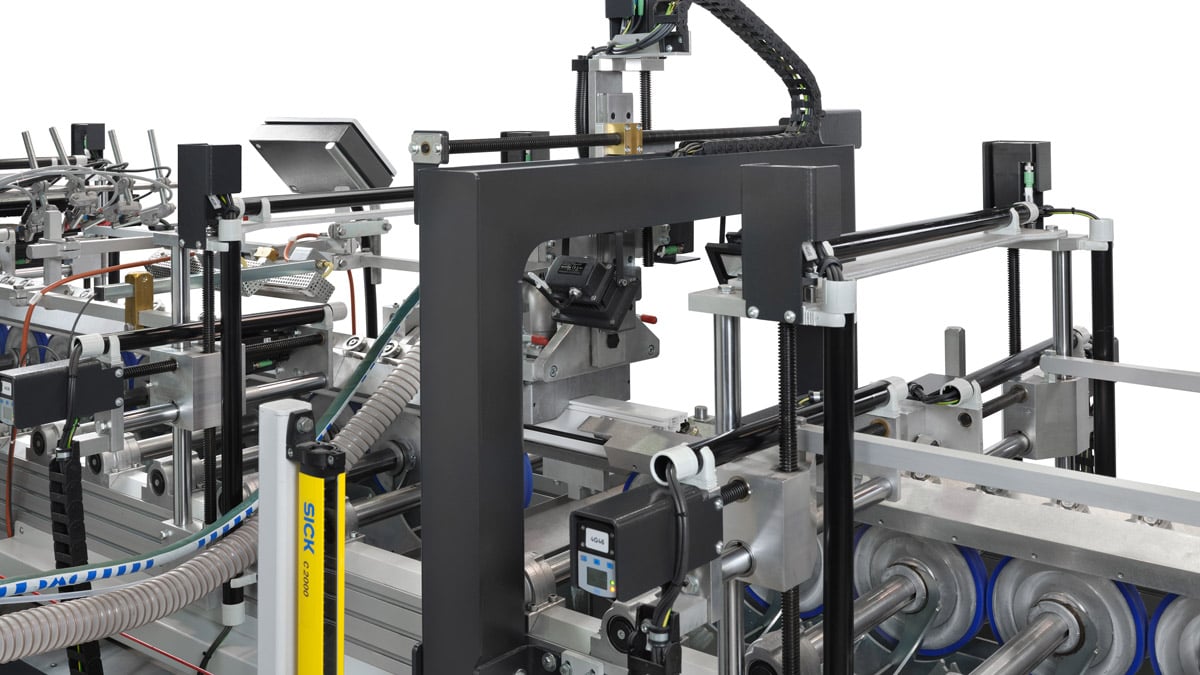 Just like EasyWrap Window, MultiWrap Window features Duespohl's patented slot nozzle. With its unique geometry, it ensures the homogeneous application of only freshly melted glue. Designed without valves nor sealings, it requires low maintenance efforts and boosts your productivity as well as quality of the final product.
Both lines can be equipped with several solutions to speed up the set-up in the wrapping zone. One consists in quick change cassettes. The other one is a hydraulic system with numbered bars in different colours, which help to distinguish one set from other.
Speaking of set-up times, at Duespohl's you find several manual, semi-automated and automated solutions to reduce them significantly.
Depending on your budget and project requirements, the degree of automation is scalable to make sure you will work with your ideal PVC profile wrapping line.




Vynil wrapping machine: discover the innovation
Would you like to find out more about efficient and reliable PVC profile wrapping solutions?