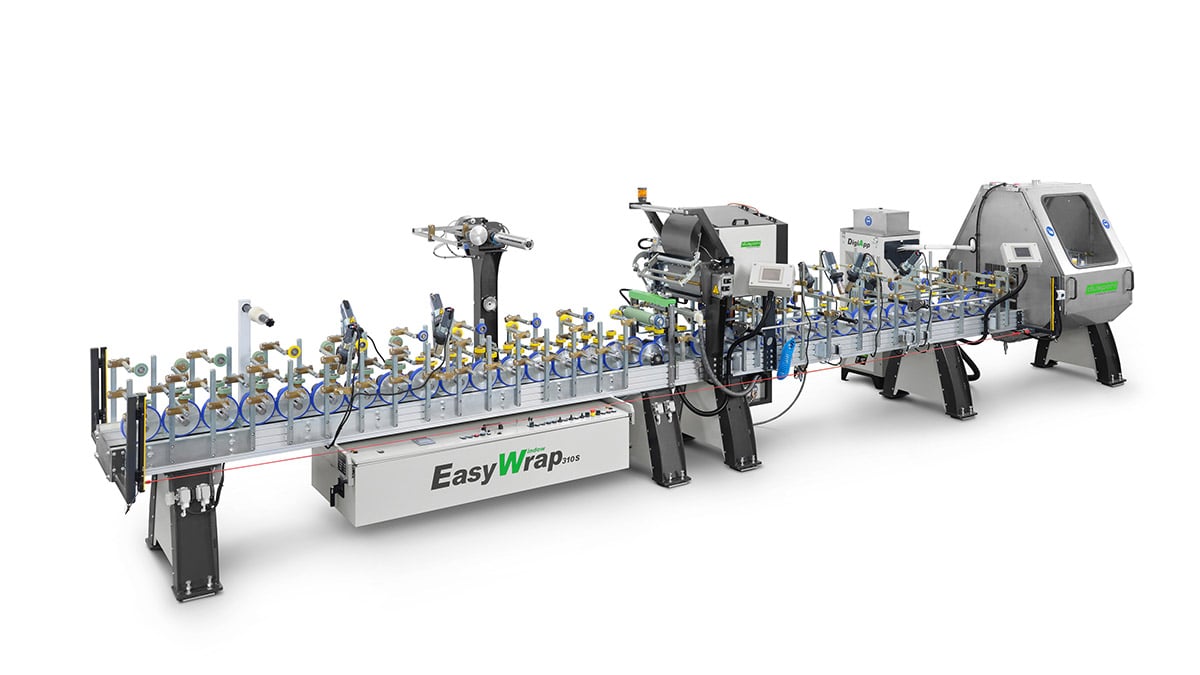 Our EasyWrap has an impressively compact design.
It is, among others, suitable for working at a moderate pace or with an easily manageable amount of different profile geometries.
When it comes to efficiency and quality, EasyWrap meets the same demands as all other machine types.
Profile wrapping line PVC
Ideal for
Window profiles
Window sills
Other PVC profiles
Profiles made from metal
Would you like to receive a free consultation to find out if EasyWrap Window is the solution you need?
Contact us for a non-binding, first conversation.
Its distinctive feature is the SCS unit, consisting of integrated systems such as its intelligent premelting device, the totally speed-stabilised adhesive dosing pump with quantity control, and our world-wide patented, infinitely adjustable slot nozzle.
The integrated premelter has been designed to melt adhesive on demand and prevent burnings.
The set-up time reducing standard equipment of this type of machine includes lateral guides with parallel adjustment in the infeed, pressure rollers with tool-free quick-change system, quick-change cassettes in the wrapping area, and also the transport wheel with tool-free fixing.
The standard equipment on this series of machines includes:
SCS unit including premelter, adhesive dosing pump and slot coater

premelter for granular EVA, polyolefin and PUR in 2 kg or 18/20 kg pack sizes

Unwinding system with diameter dependent tension

Set-up aid for fast change of décor

Lateral guides with parallel adjustments

Quick-fix system for wrapping rollers

Tool-less adjustment of transport wheels for faster set-up
The optional equipment on this series of machines includes:
Vacuum application system PrimeStar or dosing system when working with felt strips

Double unwinding system or automatic reel changer for production without interruption

Web edge control for optimal position of surface material

Foil heating system for lower consumption of glue and better glue distribution

Central width adjustment in wrapping zone

Quick change cassettes for wrapping zone

Separating system SynCut 150G for automated separation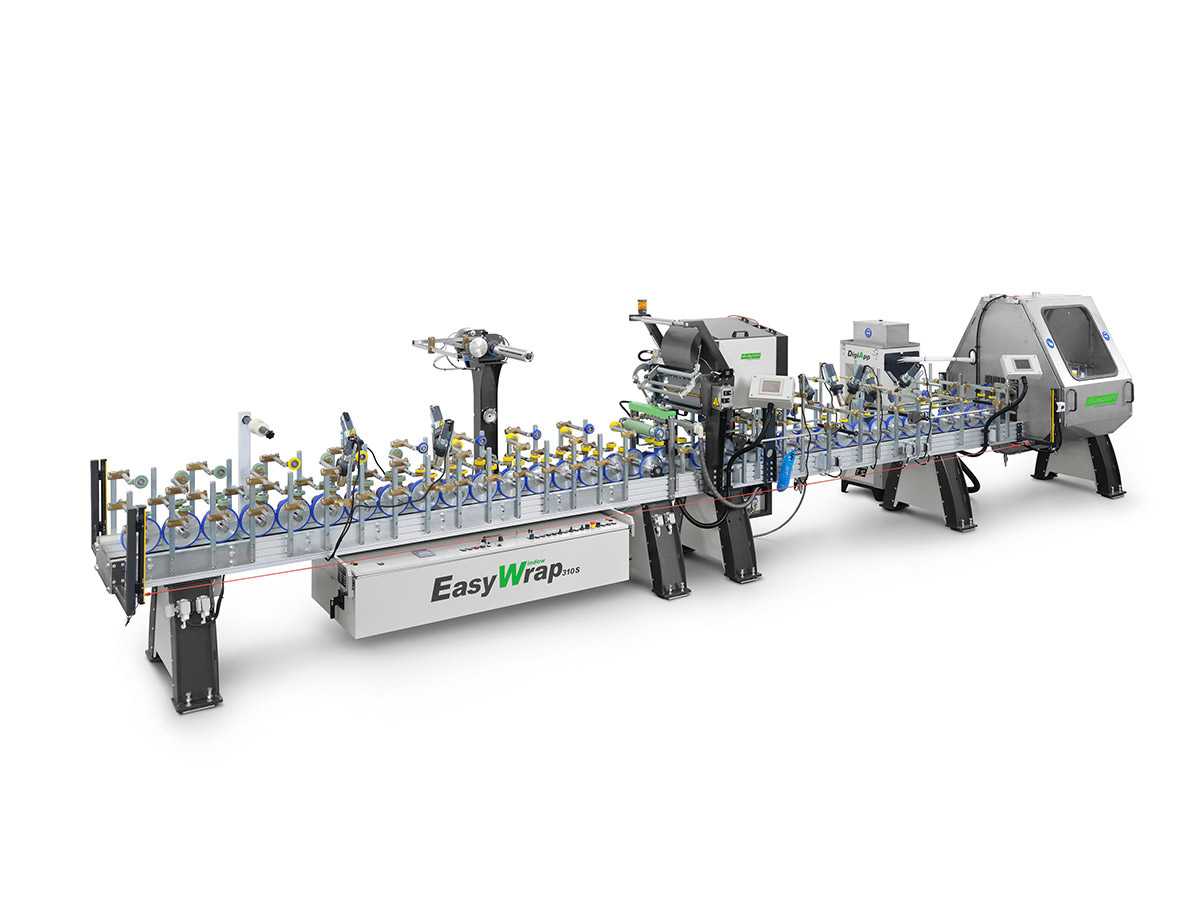 Possible configuration
Easy Wrap Window with DigiApp, Foil Heating System and Single Unwinding Station.
Control cabinet under the wrapping zone.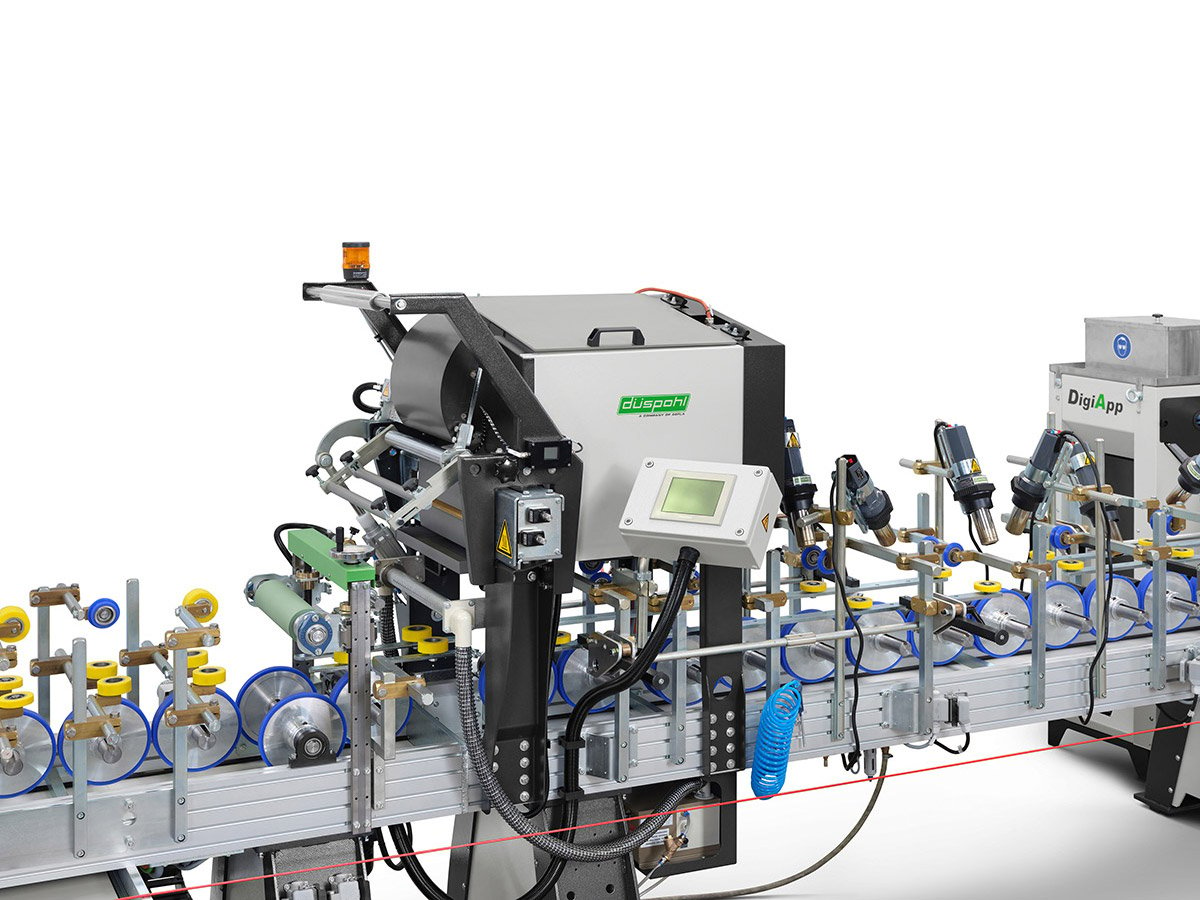 Essential element
SCS unit including premelter for EVA, PUR, PO, Slot Coater and dosing pump
special add-on: foil heating system Low energy consumption due to extremely compact design

Intelligent adhesive-preserving melting process

No need for extra space next to the machine for premelter

No need for heated hose connection
Modular construction allows for customised extension with the many additional units available

Reduced set-up time due to tool-free adjustment of transport wheel

Reduced set-up time due to tool-free replacement of wrapping rollers

Includes internationally renowned high quality Duespohl SlotCoater
Have a look at the Case Study on sustainable inline wrapping of window profiles