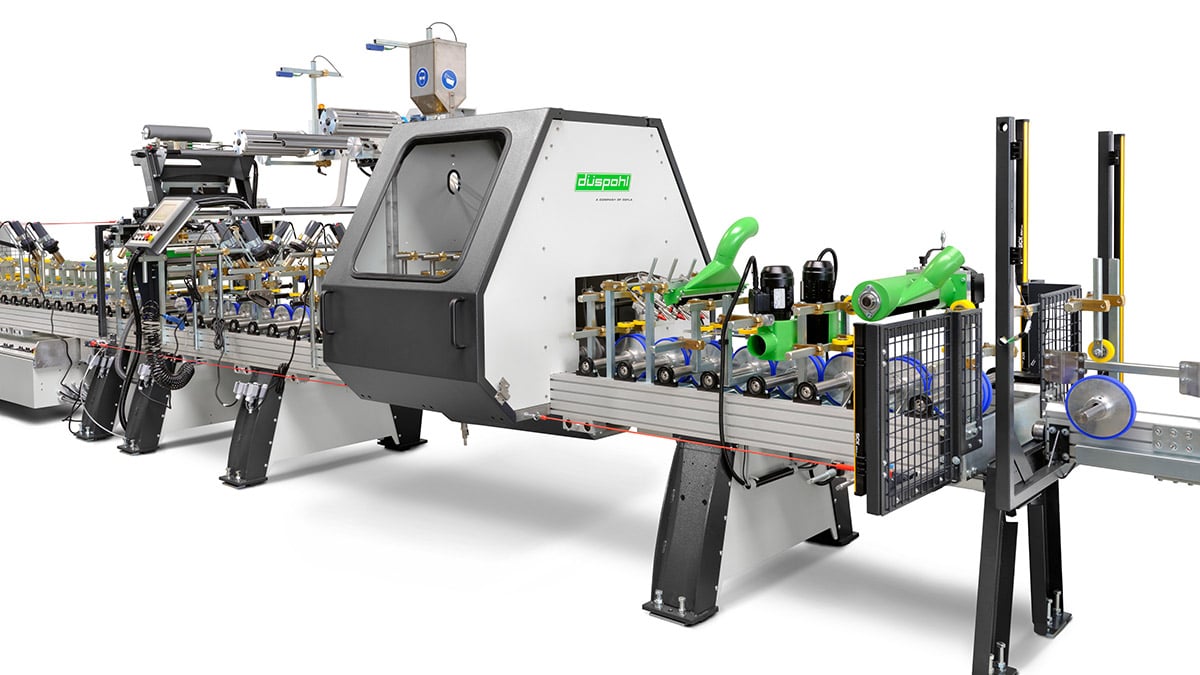 MultiWrap is a real all-rounder in profile wrapping which offers you a wide variety of configurations.
Your individual machine configuration is always based on the requirements of your specific project.
Profile wrapping line PVC
Ideal for
Window profiles
Window sills
Other PVC profiles
Profiles made from metal
Would you like to receive a free consultation to find out if MultiWrap Window is the solution you need?
Contact us for a non-binding, first conversation.
Different working widths of up to 1000 mm are available.
Our large selection of premelters and the efficient primer application system PrimeStar also make production speeds of up to 40 m per min possible for larger profile sections.
The standard equipment on this series of machines includes:
The maintenance-free, infinitely adjustable wide slot nozzle (Duespohl exclusive)

Speed and width-related dosing control (glue)

Powerful and efficient primer application systems: PrimeStar and DigiApp

Energy efficient premelter

Automatic tension control

Lateral guides with parallel adjustment in the infeed

Pressure rollers with tool-free quick-change system

Quick-change cassettes in the wrapping zone

Transport wheel with tool-free fixing
The optional equipment on this series of machines includes:
Automatic slot nozzle positioning

Foil heating system

Air humidifier

Automatic web edge control

Automatic reel changer

Protective foil unwinding unit

Central width adjustment for transport wheels and/or sets of pressure rollers

Synchronised separating systems

Process data logger with visualisation on touch screen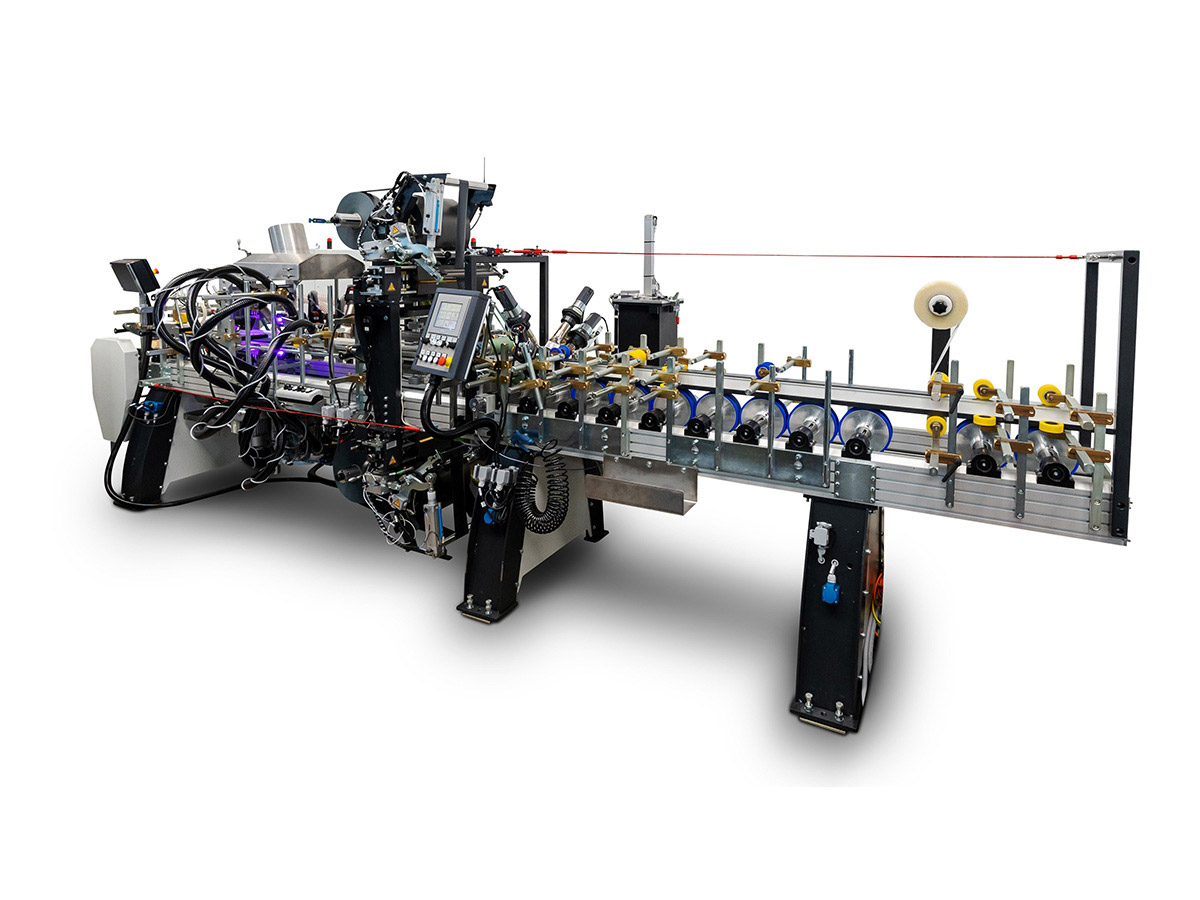 Configuration for inline application
Example of a configuration of a MultiWrap Window for inline wrapping of extruded PVC profiles. Features UniMelt 40, PrimeStar, single unwinding station and foil heating system.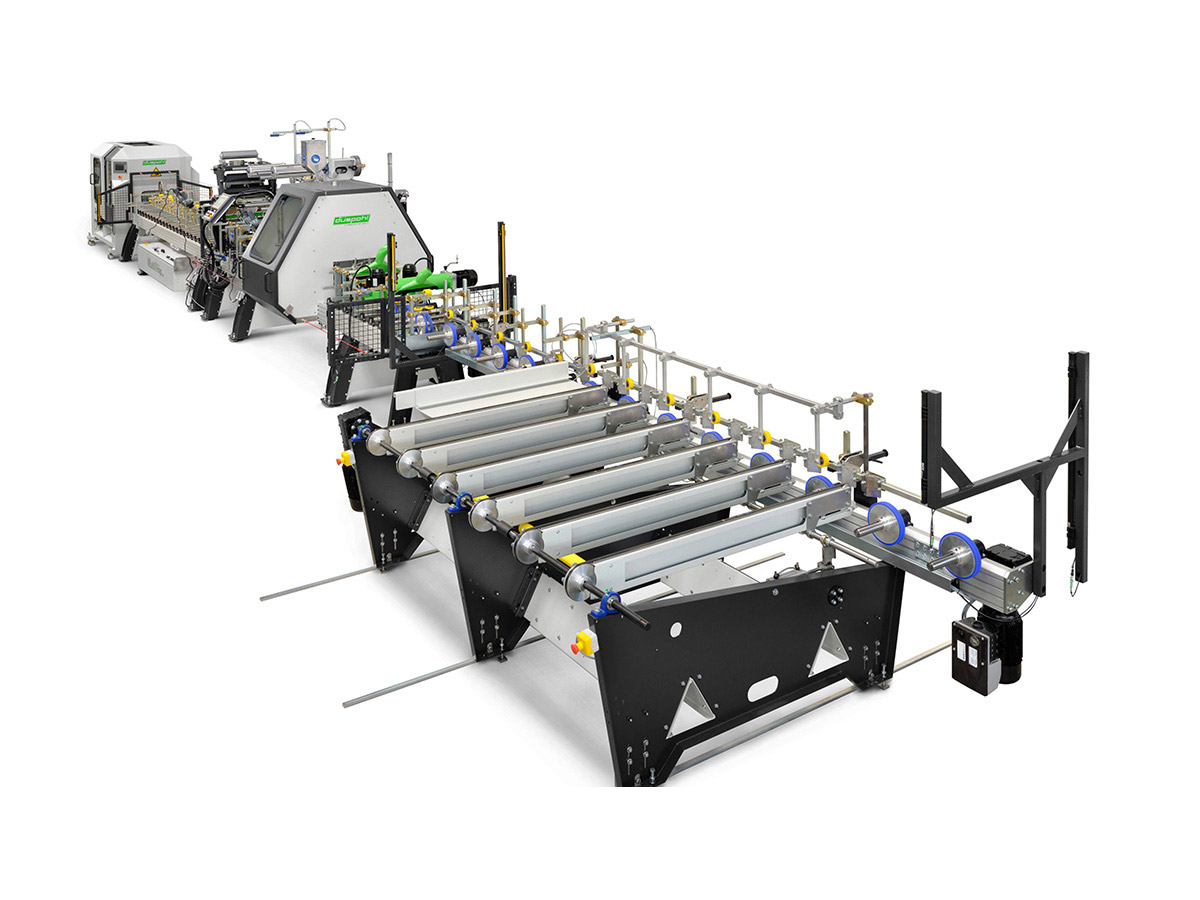 Possible configuration for offline application
MultiWrap Window featuring Crossbelt, simple primer application, double unwinding station, foil heating system and SynCut 220.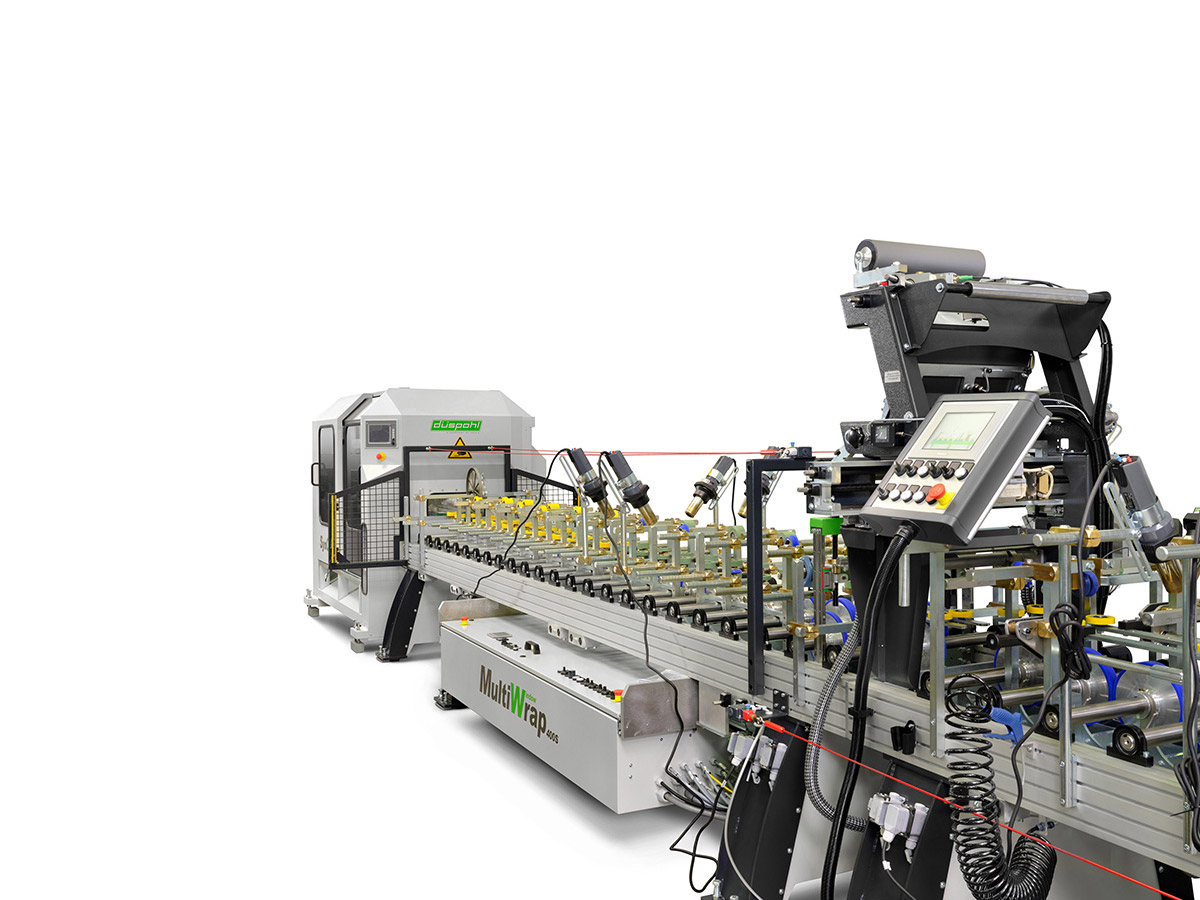 Extract: from glue application to SynCut
Extract of MultiWrap Window 400S featuring Touch Panel, electrical cabinet under wrapping zone and SynCut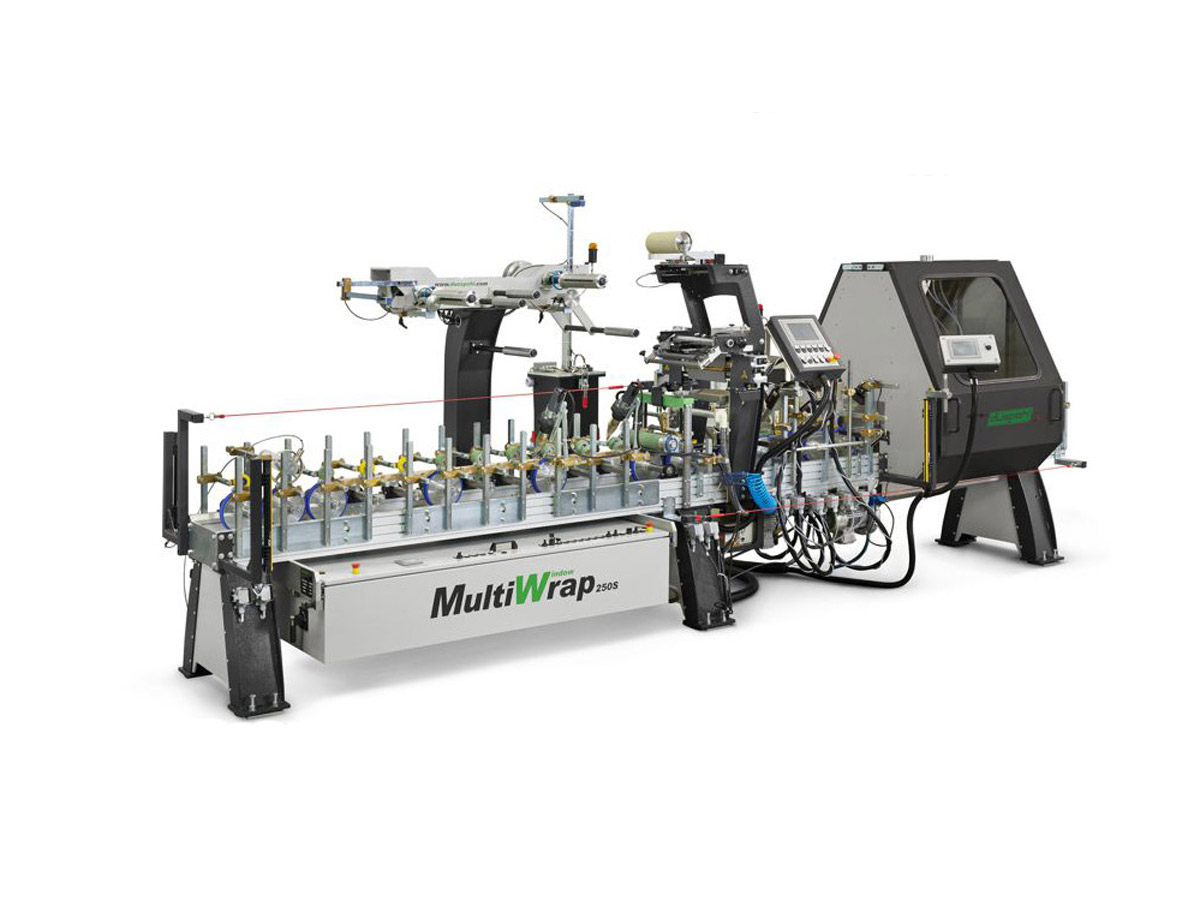 Compact configuration of MultiWrap Window
This MultiWrap Window features a double unwinding station, UniMelt 40 and an electrical cabinet under the wrapping zone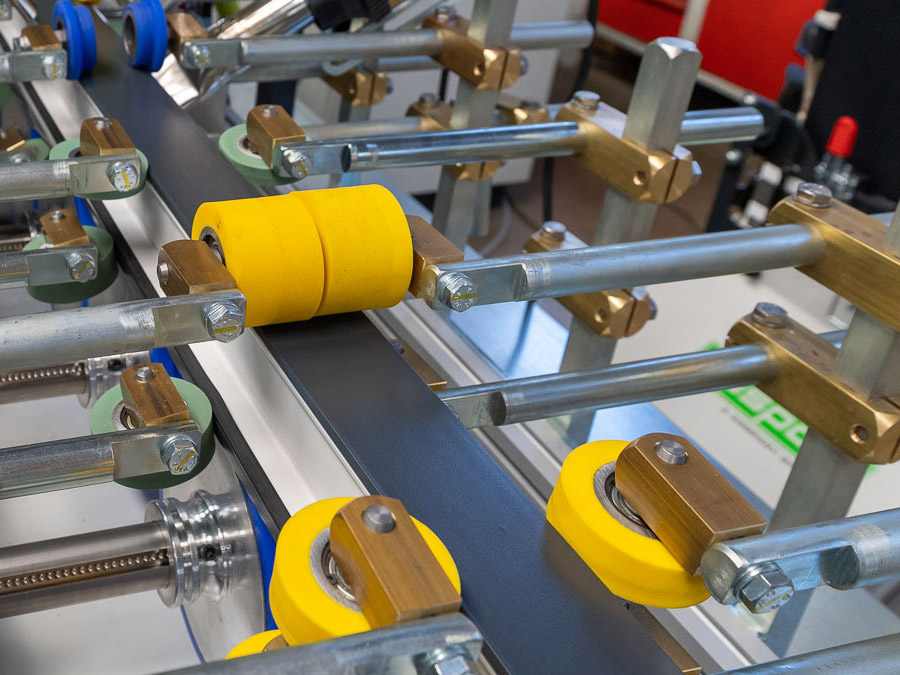 Close Up wrapping zone
Wrapping zone of MultiWrap Window performing simultaneous foiling of top and bottom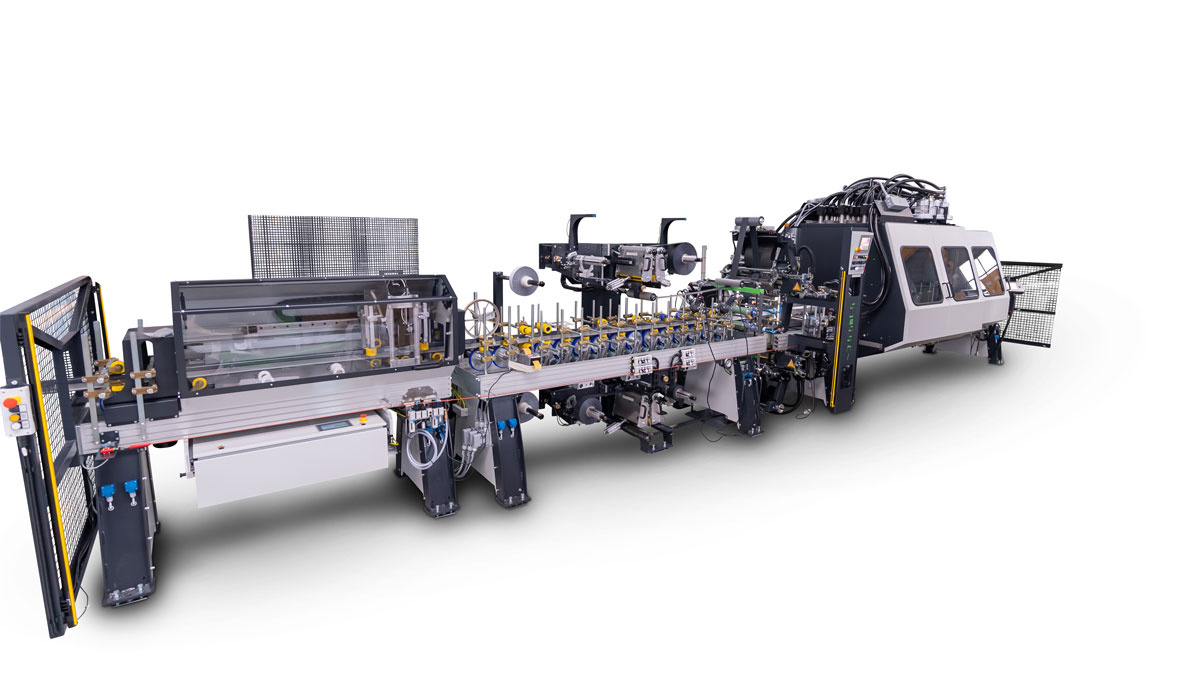 Configuration for offline lamination of both sides
This configuration of MultiWrap Window features a foil heating system, Slot Coater, UniMelt, ReelChange Window and SynCut 150G. It wraps top and bottom of PVC profiles simultaneously. For inline and offline applications

Automatic format adjustment for fast set-up and exact reproducibility of the positions
Also for simultaneous foiling of top and bottom

Vacuum application system PrimeStar
Have a look at the Case Study on sustainable inline wrapping of window profiles.
Adam Jaworecki - Trim-Tex Inc.
Multi Wrap from Duspohl allowed us to introduce new technology into our process. Our company had never done profile wrapping, therefore finding the right machine was critical. The Multi Wrap platform is extremely reliable and user-friendly enabling us to ramp up to full scale production in a short time.
Nigel Coombes - Homeline UK
Duespohl equipment has proved to be very reliable and has enabled us to meet and sometimes exceed our customer demands. The DigiApp has enabled us to accurately apply low VOC primer to our products which has both economic and environmental benefits. MulitiWrap is extremely user friendly enabling quick product change overs.
Christian Amling - Profine Group
The Duespohl lines are characterised by the vacuum and glue application systems. In this market, these are unrivalled. We are really satisfied with them, the application quality and the reliability in primer and glue application really deserve a gold medal.
Torsten Fidyka - Profine Group
The cooperation with Duespohl is impeccable, one of mutual respect. Of course the length of the line [MultiWrap Window, inline] was a challenge. Duespohl had to realise our specific requests, which they managed perfectly.