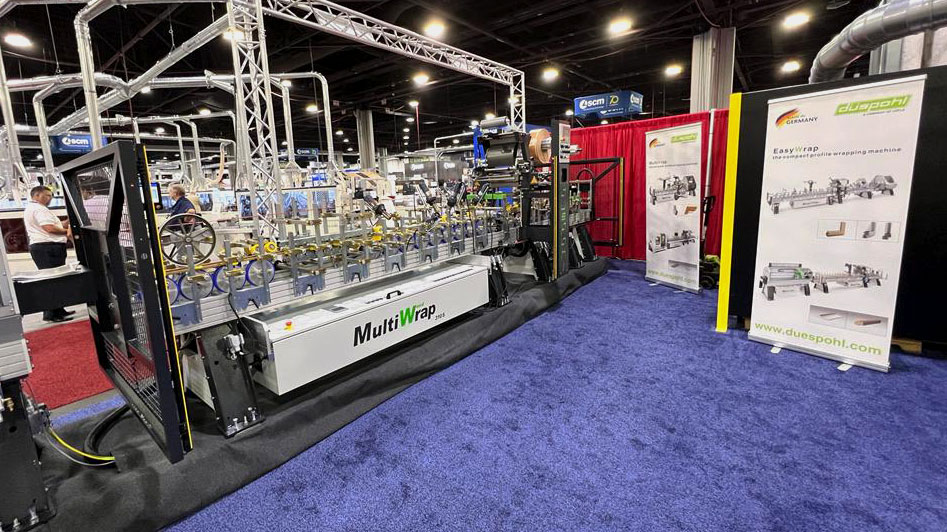 It was great to meet you!
Looking forward to IWF 2024.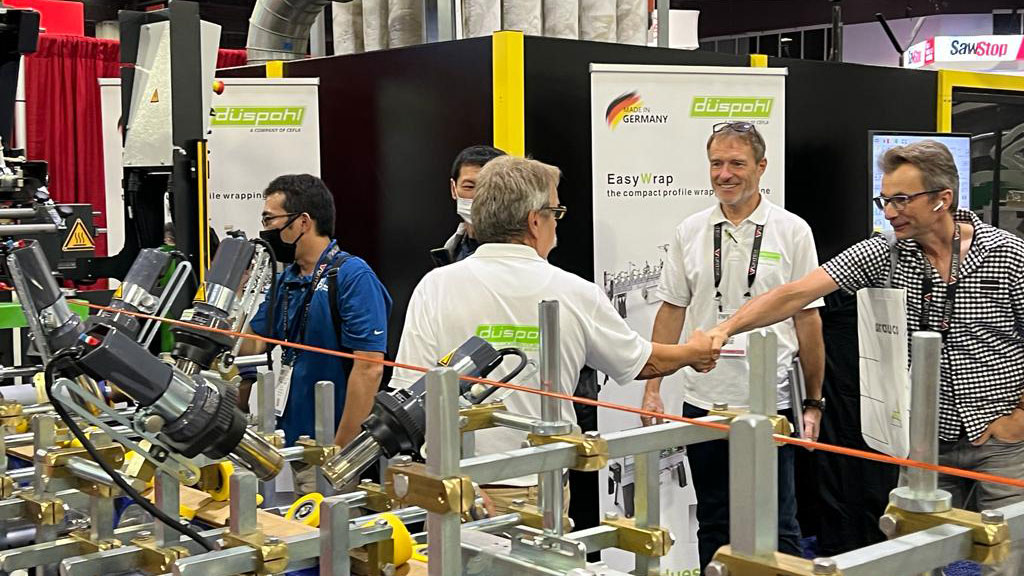 A great show
We really had a great time in Atlanta, meeting many interesting people and having many expert conversations on profile wrapping and laminating.
Visitors were especially interested in automated solutions, like the SynCut 150B, because skilled staff is harder to find. Also, we are especially proud that one customers confirmed that we did not delivery "only machinery, but solutions" to help him run his business.
Many thanks to the entire IWF team! Looking forward to the next time.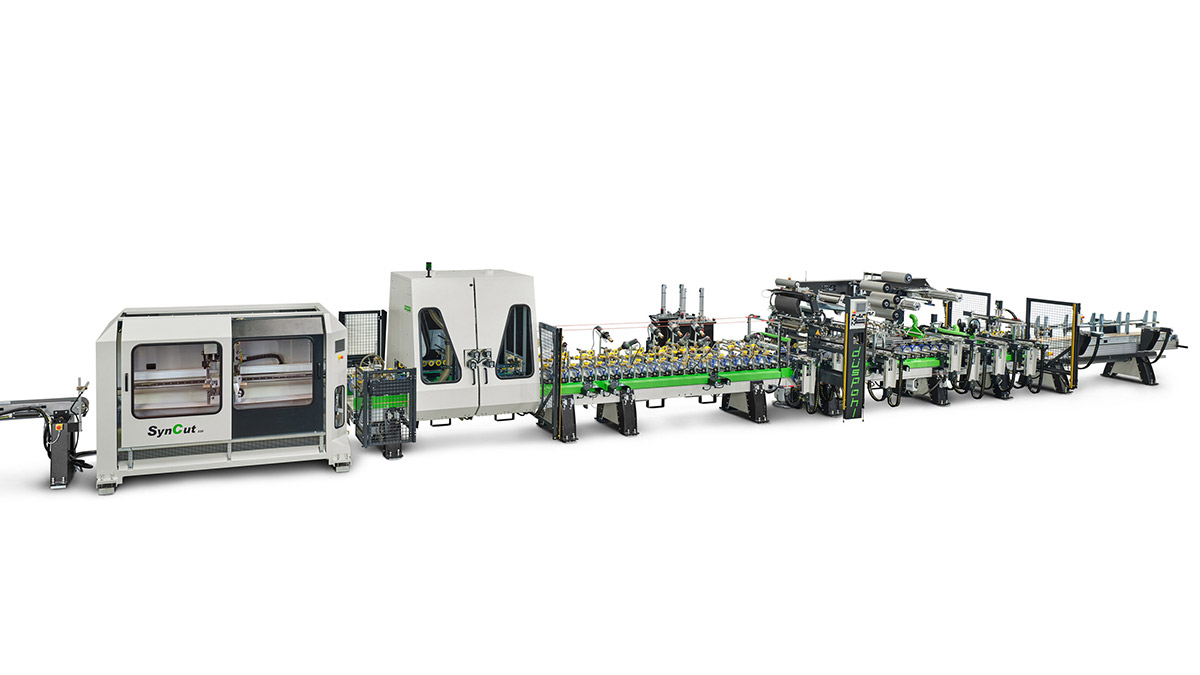 Find out how to boost your productivity
We were so happy to be back in Atlanta at IWF 2022 for an in-person event - and we did not come empty handed. To make sure your visit to our booth would pay off, we showed you some great automation solutions that reduce set-up times, ensure high product quality and reduce the need of skilled staff - which gets harder to find every month.
To celebrate the real life meeting, we brought a real, tangible profile wrapping machine including a dynamic cutting unit that enables you to produce at impressive speeds.
Discover Duespohl's world of wrapping
What are the line and components we exhibited at IWF 2022?
MultiWrap Wood
MultiWrap is a real all-rounder in profile wrapping which offers you a wide variety of configurations.
Your individual configuration of this profile wrapping machine for wood (composites) is always based on the requirements of your specific project.
Ideal for
Plinth panels & skirting boards

Profiles for door frames

Picture frames




Other profiles made from wood (composites)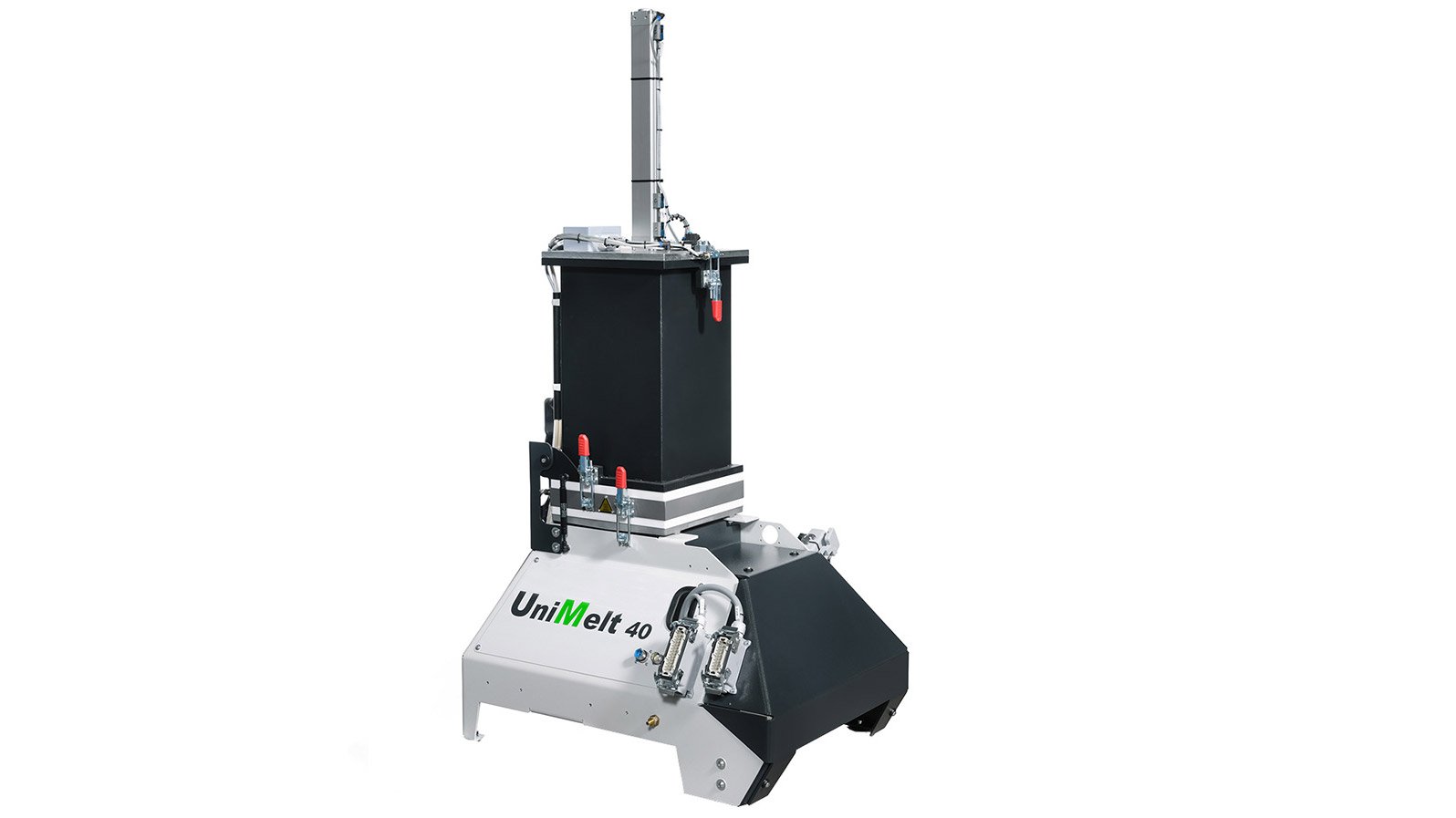 UniMelt
UniMelt can be used for all common adhesive applications; doctor blades, adhesive rollers and slot coaters. It works with EVA and PUR hot melt adhesives and processes all commercially available adhesive blocks from 2 - 20 kg or granulates.
Ideal for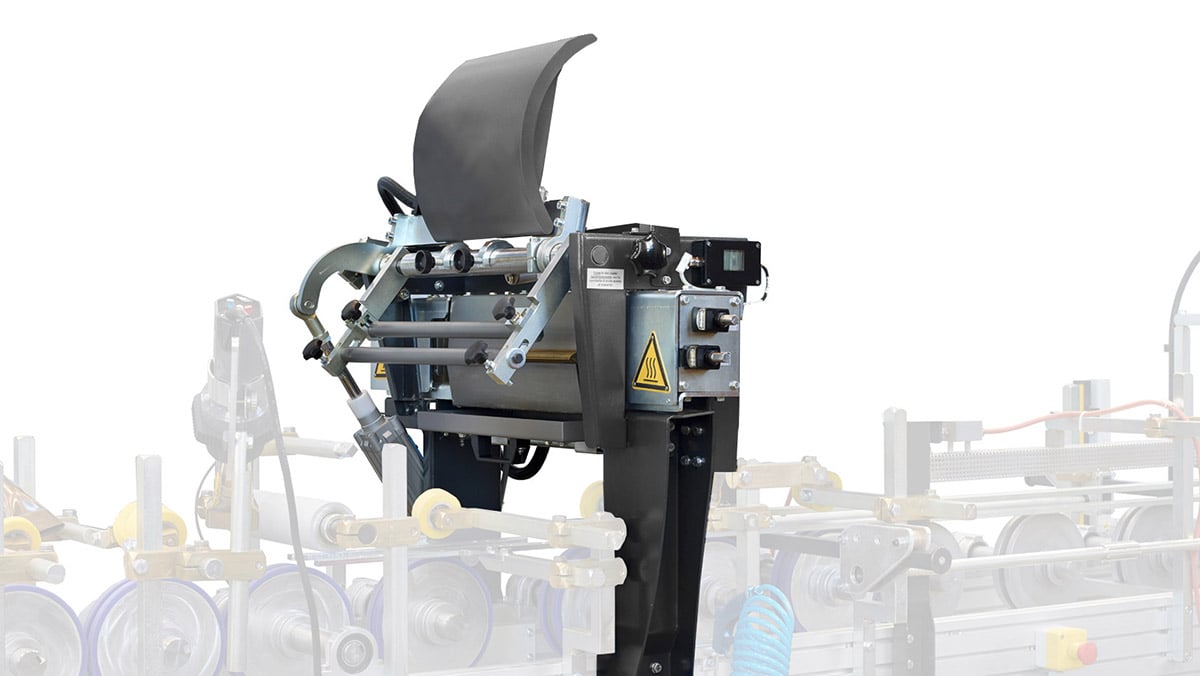 SlotCoater
The internationally successful slot coater by Duespohl is available for glue application widths from 250 to 1400 and works with all surface materials on reels.
Ideal for
all profile wrapping lines processing surface material on reels
Foil-Heating-System FHS
The Foil-Heating-System FHS heats wrapping material to a pre-selected temperature, independently from the temperature that it has before.
Using this unit, you increase the process safety and surface quality of the wrapped profiles.
Ideal for
all profile wrapping lines
all laminating lines
Double unwinding station
The double unwinding station with manual change of surface material allows you to switch from one decorative material to another without interrupting the production. It works with the common wrapping materials and is equipped with the tension control system, just like the single unwinding station.
Ideal for
EasyWrap Wood
MultiWrap Wood
EasyWrap Window
MultiWrap Window
offline applications
SynCut 150B
SynCut 150B is a synchronized flying cut-off saw to separate profiles while in motion. Its operating mode combines high dynamics with low tolerances. It works independently from the precedent machine and delivers high quality cutting results thanks to its unique design.
Ideal for
Plinth panels & skirting boards

Picture frames




Other profiles made from wood (composites)




Catalog request
Would you like to have a look at Duespohl's products for the wrapping of wood and wood composite profiles?
References
Multi Wrap from Duspohl allowed us to introduce new technology into our process. Our company had never done profile wrapping, therefore finding the right machine was critical. The Multi Wrap platform is extremely reliable and user-friendly enabling us to ramp up to full scale production in a short time.
Adam Jaworecki - Trim-Tex Inc.
References
The laminating line by Duespohl has supported us in growing constantly and offering our customers a larger variety of surface qualities.
Oscar Taboas - Royo
References
Duespohl equipment has proved to be very reliable and has enabled us to meet and sometimes exceed our customer demands. The DigiApp has enabled us to accurately apply low VOC primer to our products which has both economic and environmental benefits. MulitiWrap is extremely user friendly enabling quick product change overs.
Nigel Coombes - Homeline UK
References
On our EasyWrap Wood, we wrap MDF profiles with paper. The machine is easy to operate and we are pleased to use this system which produces good final products.
Pal Endre - SET Prod-Com
References
SynCut 360 and UniMelt 40 were delivered and installed on time. Both retrofit components have made our production much more efficient. Service-wise, we are both very happy with the installation and the spare parts supply. Communication with Duespohl has always been great and we're already thinking about further investments since we believe their equipment is the best available in the market!
Andrew Tweddle - BHK UK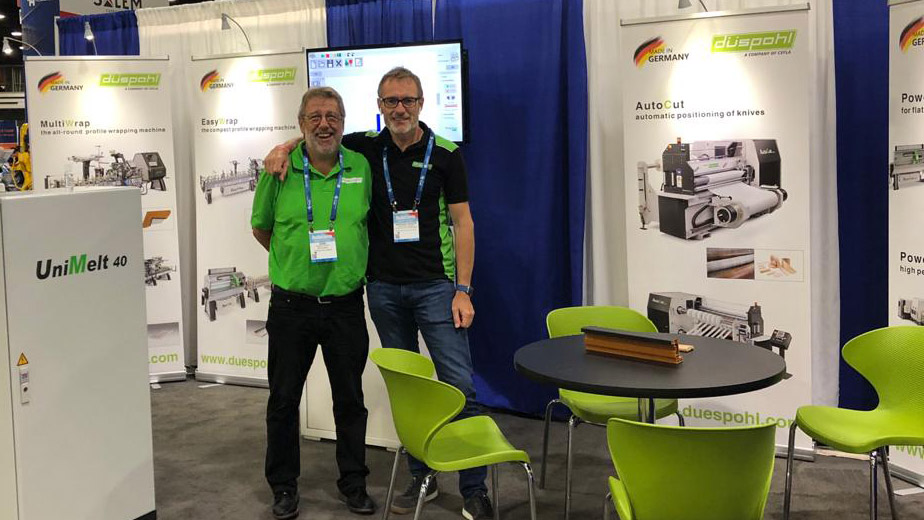 Your Sales Manager
If you came to our booth, you probably met Andreas Jaeger (black T-Shirt), our US Sales Manager with more than 30 years of experience in the woodworking sector.
He travels to the US regularly and will be happy to help you to improve your process and product quality.