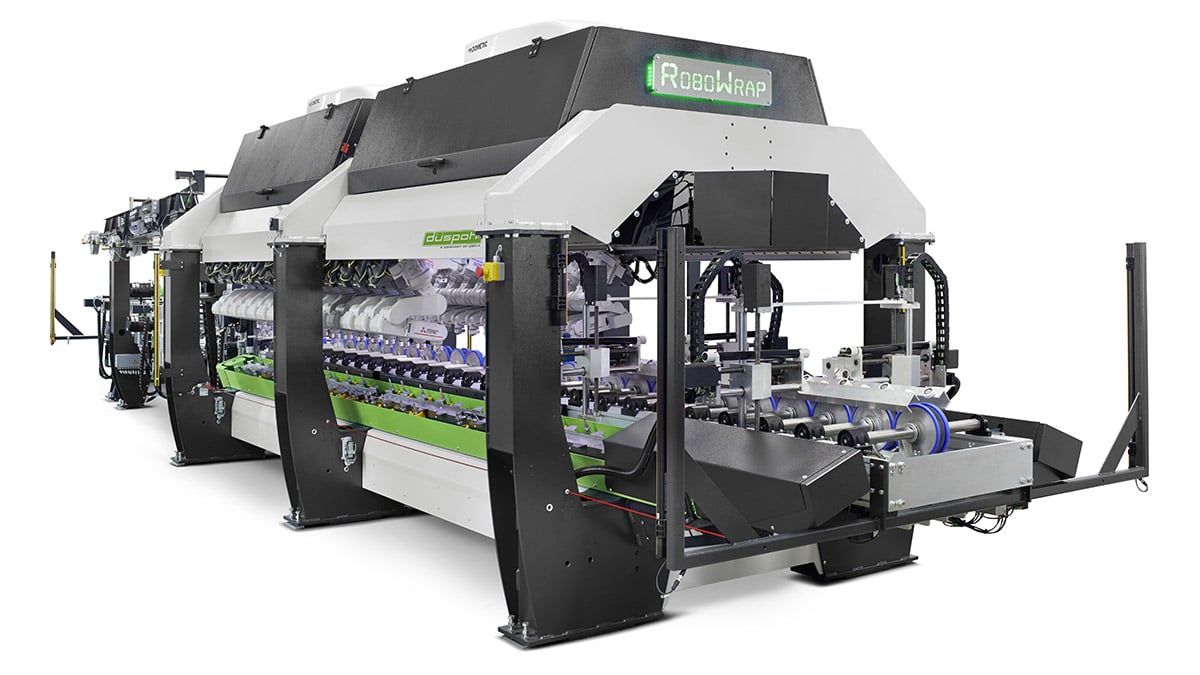 RoboWrap is the answer to the trend towards ever smaller batch sizes and increasing consumer demand for individual decors.
With its maximum degree of automation and digitization, it is also Industry 4.0 implementation in the wrapping industry.
The RoboWrap's special software was developed in cooperation with the universities of Bielefeld and Paderborn, Mitsubishi Electric as well as the Fraunhofer IEM. In collaboration with customers and partners, our dedicated high-level programming department is constantly developing useful updates that respond to market needs.
Profile wrapping line wood (composites)
Ideal for
Plinth panels & skirting boards

Picture frames




Other profiles made from wood (composites)
Would you like to receive a free consultation to find out if RoboWrap Wood is the solution you need?
Contact us for a non-binding, first conversation.
Once the positions of the pressure rollers have been programmed by the operator, the system repeats the settings fully automatically at a later time. Regardless of how different or similar the previous profile was, the robots perform the set-up for the new profile in no time! This leads not merely to a significant increase in production, but also to greater calculation security in the pricing of our customers. Since the intelligent software analyses the operator's procedure before each set-up process, it always comes to the desired wrapping result even with worn or modified pressure rollers.


An operator with knowledge of wrapping technology is able to transfer his knowledge to the intuitive user-friendly interface of the screen after a very short training phase and will be able to program the machine for the respective profile. For the further production runs itself, no specialist personnel will be needed.

After more than ten years of development and a local innovation award as well as the Innovation Award of Ligna fair, the first machines were delivered for the plastic as well as for the wood sector.
In order to benefit from the possibilities of artificial intelligence in profile wrapping, we are participating in a project funded by the Germany Ministry for Economic Affairs and Climate Action: The AI marketplace. And since the progress of technology never stops, further cooperation projects are being prepared.
The standard equipment on this series of machines includes:
Automatic reel changing system

Foil heating system

Air humidifier

Automatic web edge control

The maintenance-free, infinitely adjustable wide slot nozzle (Duespohl exclusive)

Speed and width-related dosing control (glue)

Energy efficient premelter

Automatic format adjustment

Wrapping zone equipped with robots by Mitsubishi Electric

Highly intelligent, constantly evolving software
The optional equipment on this series of machines includes:
Infeed and outfeed systems

Protective foil unwinding unit

Synchronised separating systems

Automatic slot nozzle positioning

Process data logger with visualisation on touch screen and connection to your ERP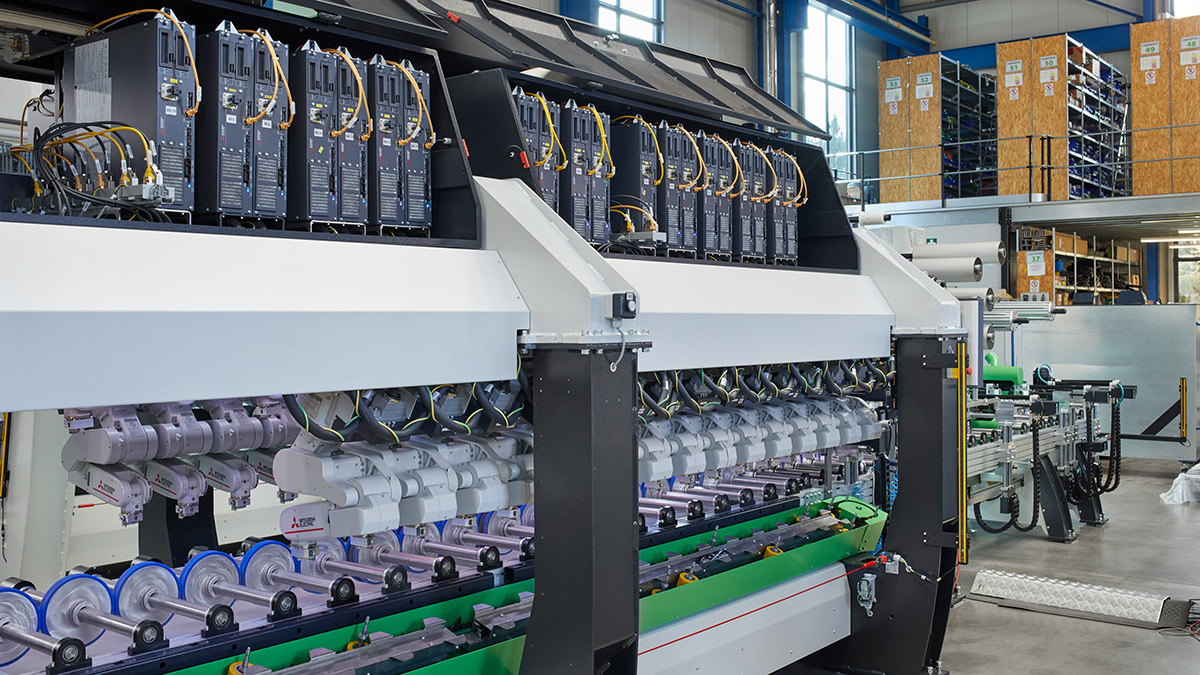 Focus on
Wrapping zone equipped with robots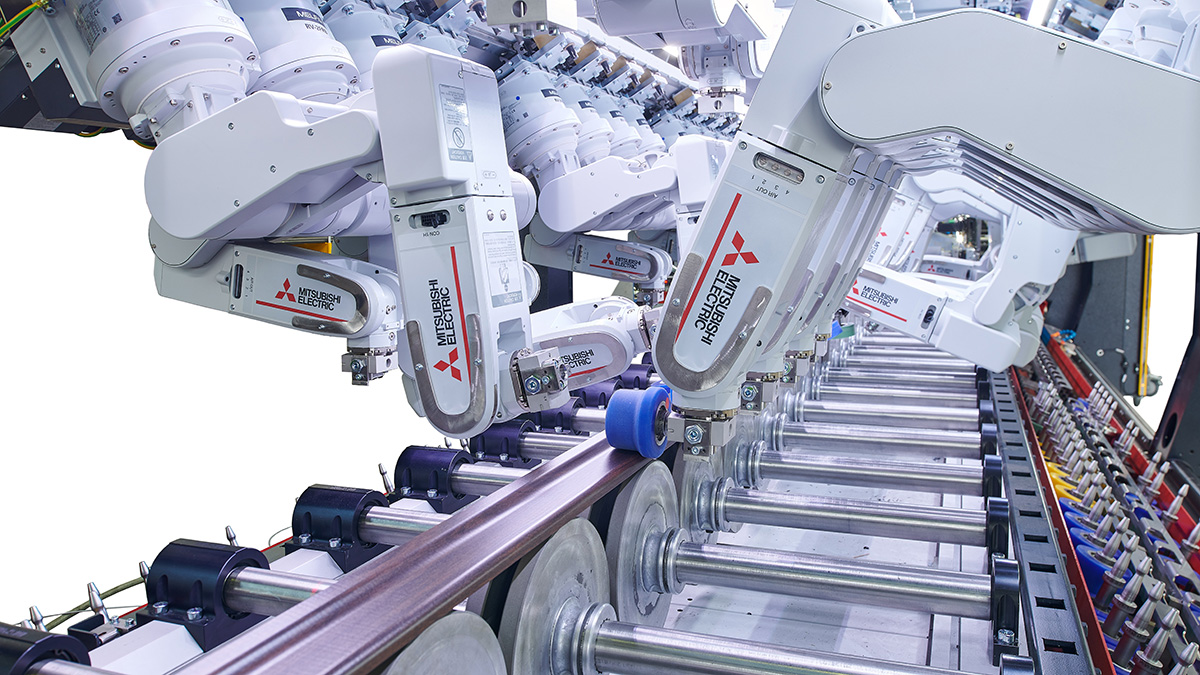 Close up wrapping zone
Featuring 47 robots to position the pressure rollers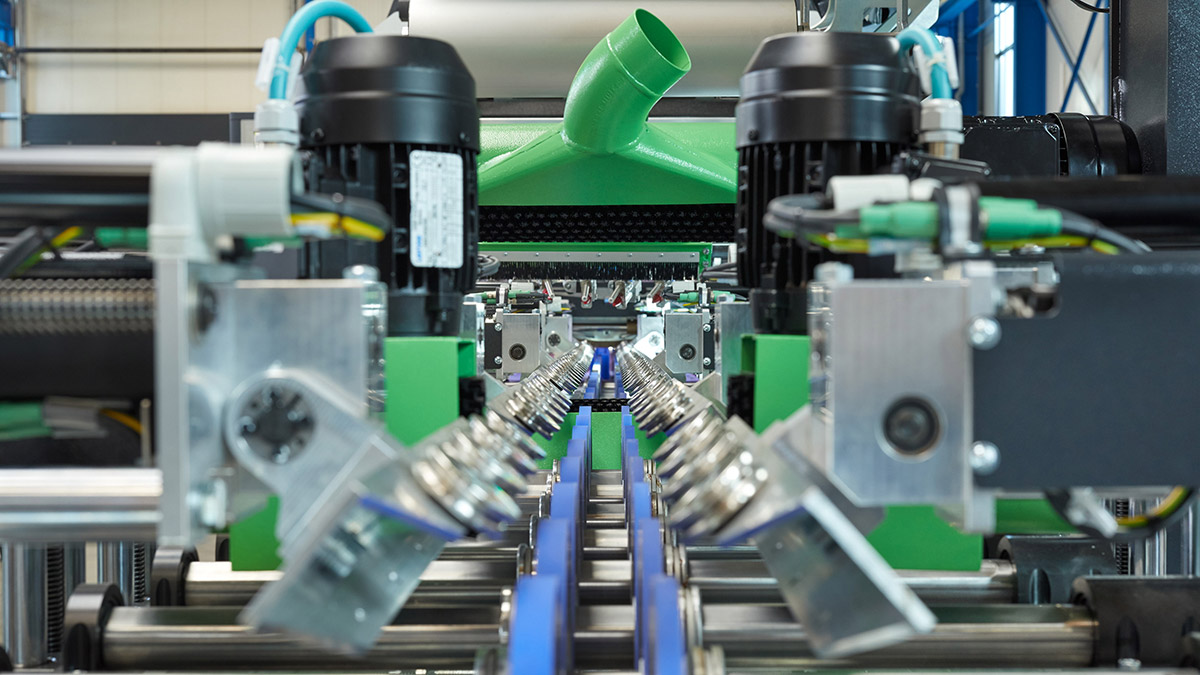 Automatic format adjustment
Lateral guides, brushes etc. will be positioned automatically by the automatic format adjustment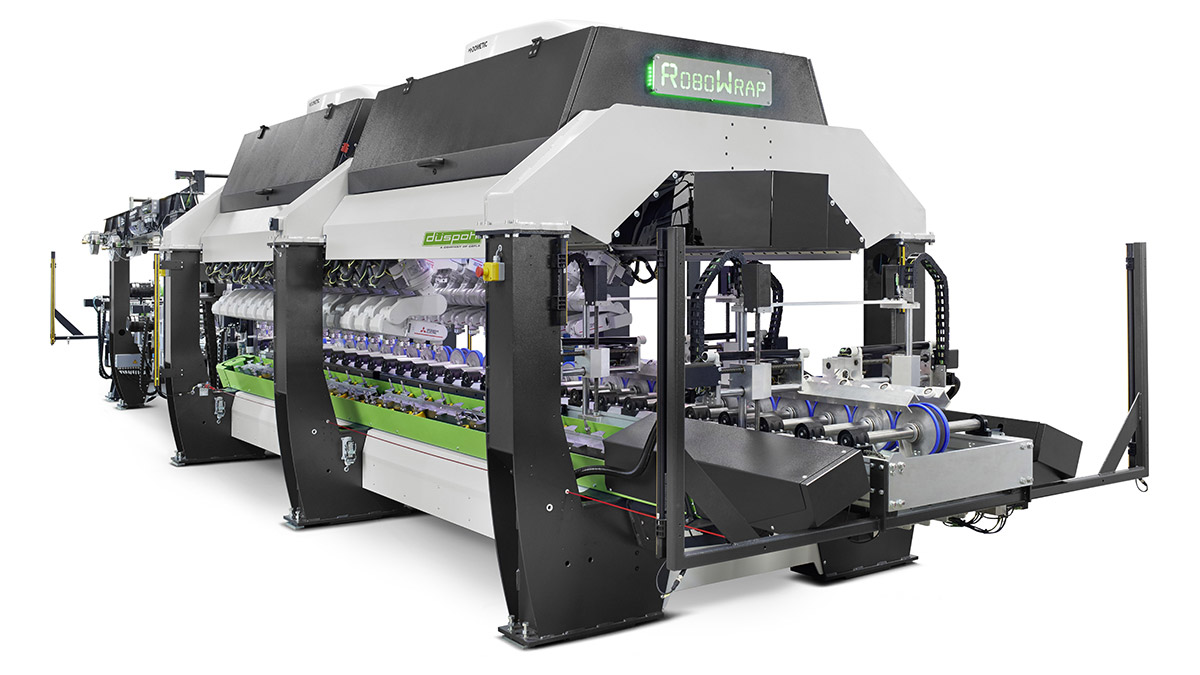 Possible configuration
RoboWrap Wood featuring ReelChange Wood and 24 robots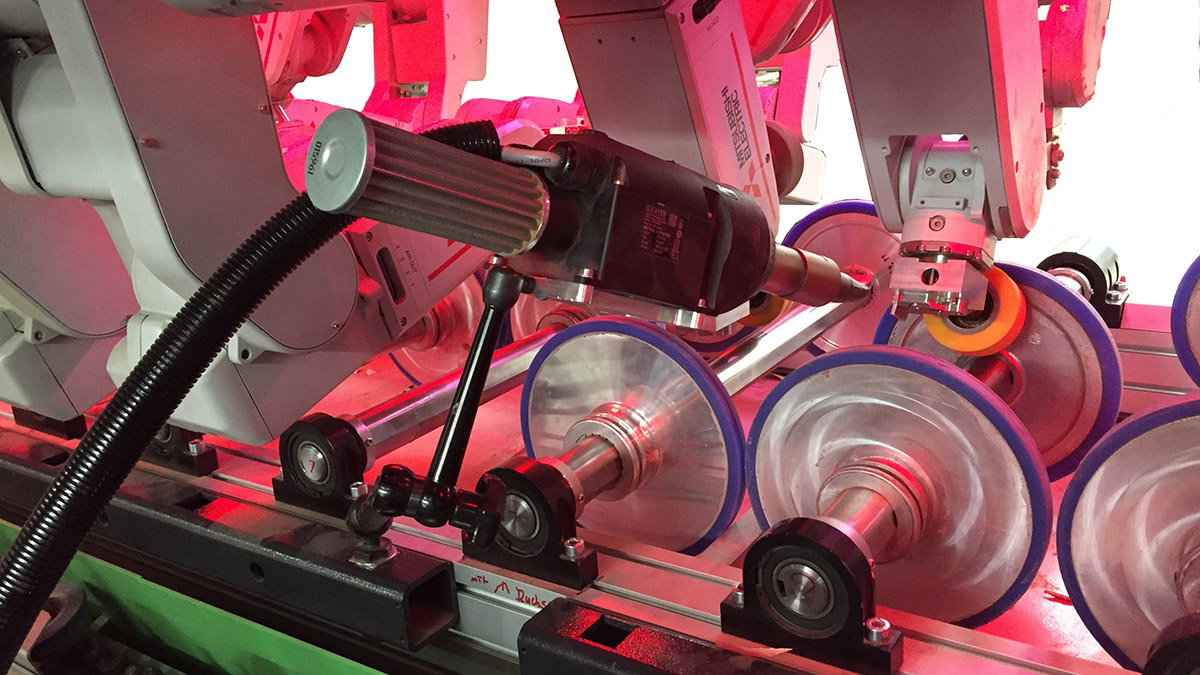 Focus on
Hot air fans in wrapping zone In contrast to other highly automated wrapping machines, the RoboWrap takes into account the use-related shape change of the rolls

Profile programming and job lists can also be prepared from the desk

Intuitive and largely language independent operation of the software via drag and drop

Correction of roll positioning while the machine is running with a tablet and without manual intervention

New software calibrates the machine autonomously, new process also allows automatic process in start of operation

Reduction of rejects as the tasks of the roles are saved
Number of robots depends on customer's requirements, expandable

Setup time is calculable, as it is constant and independent of profile geometry

No specialist personnel is required for the production

Significantly reduced risk potential, since no human intervention takes place

Permanent further development of the software with corresponding updates

Numerous patented system development

Software also considers wear and tear of transport rollers when positioning pressure rollers to maximise accuracy